A few weeks a go I shared this picture on Instagram. And today I am going to share a little tutorial on how to transform an XL t-shirt I got at Target for $5.00 into a cute maternity friendly with ruffle shoulders!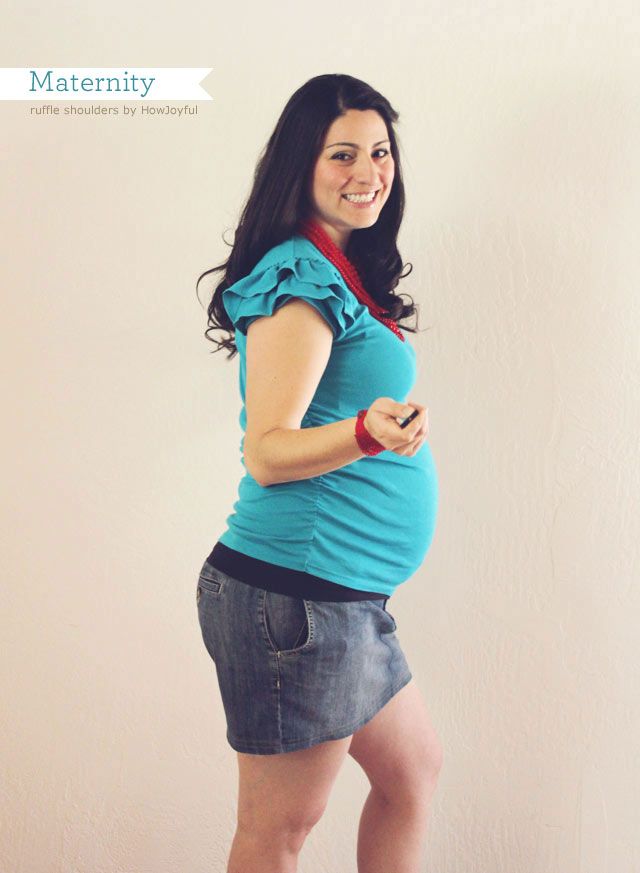 This post contains affiliate links. This means that if you purchase using my links I will receive a commission at no extra cost to you. Read my full disclosure.
I am so happy by how comfortable the t-shirt is now and thanks to how stretchy the fabric is I know that it will fit me even after my belly gets bigger. Even tho I feel like I could not get any bigger right now =]
Are you ready to make your own?
PROCESS
[Click on images to enlarge]
| | |
| --- | --- |
| | 1- As I mentioned before I started with a XL t-shirt, I normally wear Medium size so if you try this you should at least get a shirt 2 sizes bigger than your normal size, 3 sizes would give you a lot more material for your ruffles, so just get one as bigger as possible! |
| | 2- Try your shirt on and pin the sides so you can see how much you can take from there, after that fold your shirt in half to make sure both sides would be equal and cut as shown in the pictures. Double check the fitting under your arms and leave a 1/4 inch for seam allowance. |
| | 3- Cut the shoulders to your desire height and round the corners, they would be a lot longer than needed but we'll cut the excess when attaching to the shirt. Also cut stripes from the sides of your shirt (the wider you can, the better). Make a small fold on both sides and zig-zag the edge to prevent fraying. |
| | 4- Make ruffles with your stripes, and pin them to your shoulder piece. I pinned mine 1/2 and inch below the seam of the shoulder so that you can see the ruffle better. |
| | 5- Sew along the top of your ruffle and pin the second row, it's Ok if you have room in the top of uncovered fabric, because when you place the ruffle in the shoulder you will need seam allowance anyway (notice in mine there is about 1/2 on the top) |
| | 6- sew the sides of your shirt and try it on backwards so that you can pin the shoulders better, I decided I didn't wanted the shoulder piece all the way around my arm, so I only left 3 inches total on the bottom, sew it and then zig-zag stich all the way around to prevent fraying, I folded the 3 inches under the arm and topstitched. |
| | 7- The last part is to add the elastic on the sides, measure from where you want the elastic to start and how short is comfortable for you. In my case I added 2 pieces of elastic 3 inches shorter than the length I was going to sew it to. I pinned the elastic on the beginning, end and center and run it through the machine using the zigzag stitch. Just make sure you pull the elastic when sewing it so that gathers the fabric once it's in place. |
I made this refashion very fast when I figure I had nothing to wear to go to a shower, up until now most of my shirts were still fitting, well.. they definitely do not fir any more. So it's time to do some more upcycling =]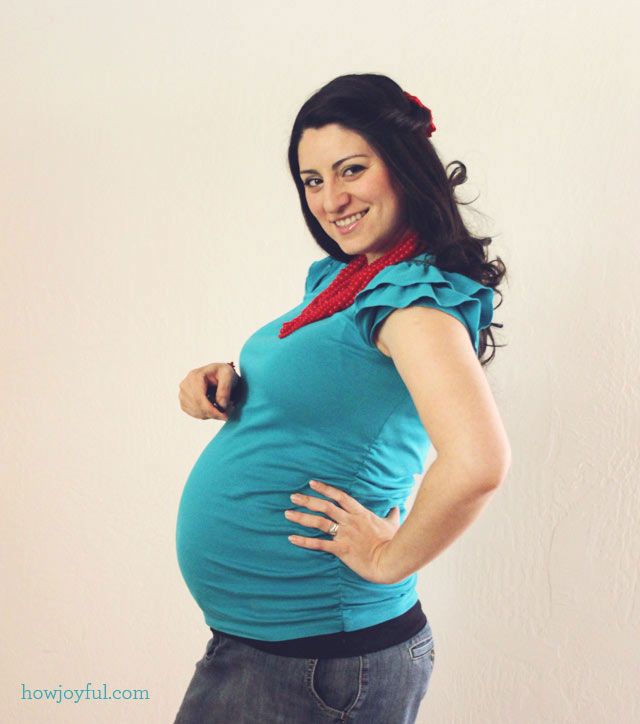 I hope you all have a wonderful 4th of July and I am offering a special 40% OFF all my premade templates for this week only with the coupon JULY4TH, so if you want a to refresh your blog for the summer, here is your chance!
Have a sunny and lovely day!
XOXO
* This tutorial is provided for personal use only.
Check the Site policy at the bottom for further information, Thank you!