Today I'm starting a new section here: Blogging tips. This next April I will be celebrating this little blog's 3rd blogoversary (can you believe that!!?) and even though 3 years of blogging do not make me an expert by any means, there are things that I know now, that I wish someone had explained to me way back when I first started. So I am going to use a few post that I had already written for my Design website and I am going to update them and share them here (along with some new content of course!) because I know that they can help some of the ones that are just venturing in the Blogging world.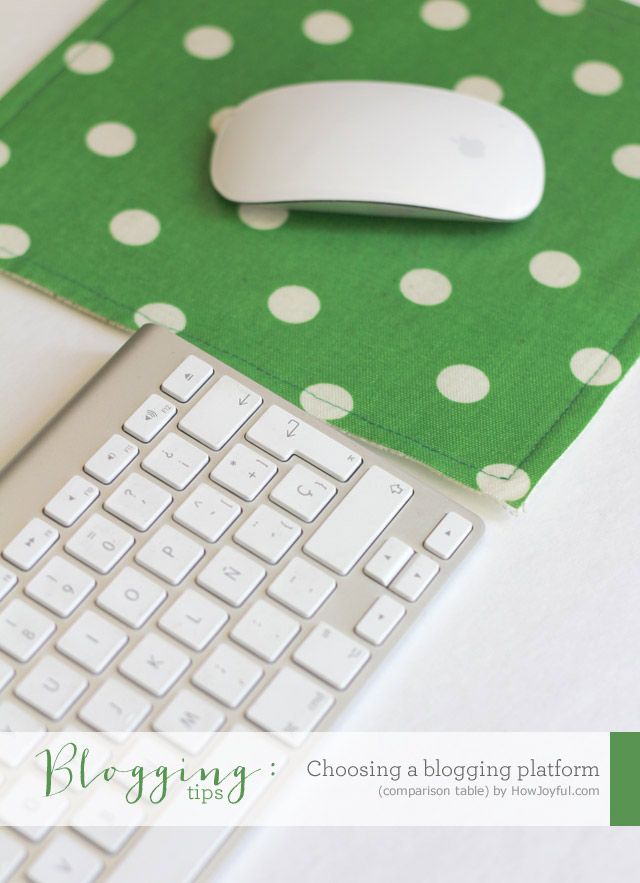 In this new section I am going to cover the most frequent questions I get asked by my clients, but if you have a special topic you'd like me to blog about, just mention it on the comments and I'll try my best to cover it.
So to start, I am going to talk about blogging platforms, I will cover the 3 most popular ones with my clients (Blogger, WordPress.com and WordPress.org) When starting a blog or when having a re-design most bloggers question what platform they should go with, and to be honest it's about band-with, size, investment and flexibility. So it depends on what is more important to you, so to help out I worked on a comparison table that will cover some of the most important points.
So to start, note that there are two different WordPress, one is the free software you install in your own Host (.org), you are in charge of installing and updating, the other is self-hosted, meaning it's run and updated by WordPress.com, you have an account, log-in and start blogging.
WORDPRESS.ORG
WORDPRESS.COM
BLOGGER
Cost
Free software, but you need to pay web hosting and domain*
FREE
FREE
Level of

customization

allowed
FULL: You can transform it to look like a website or blog, set up slideshows, add PHP, Javascripst, etc.
MEDIUM: You can customize the CSS file purchasing an upgrade normally $40/yr but it will only change the style sheet and fonts – so you can NOT run a custom theme .
FULL: You can transform it to look like a website or blog, set up slideshows, add PHP, Javascript, etc. but the capabilities are more limited.
Set up level
You will need to set up a database and then install the WordPress software in your host.
Only requires you to set up an account. You can have multiple blogs under the same account.
Only requires you to set up an account. You can have multiple blogs under the same account.
Software updates
You have to manually update the software and plugging, you will get a notification on the dashboard when a new version is available.
The update is automatic for the software, no plugging allowed.
Automatic updates and usually they will notify you in the dashboard when new features are added.
Allow Pages
Yes, Unlimited
Yes
Up to 10 pages
Supports widgets**
Yes
No. Does not support 3rd party scripts or most html codes.
Yes
Custom Domain

Yes, you HAVE to set it up with a custom domain.
www.yourcustomURL.com

Yes. You can link your domain (www.domainname.com) to your blog paying about $15/yr. Your default link is something like


www.yourblog.wordpress.com

Yes. You can link your domain (www.domainname.com) to your blog for FREE. Your default link is something like


www.yourblog.blogspot.com

Good for
Advanced bloggers that want more control or flexibility with your blogging.
Individuals that want to build a personal brand.
Small companies.
New bloggers that are not too interested in tweaking your blog or getting all the latest and greatest features and plugging offered by self-hosted options. Bloggers that don't have the resources to manage a custom installed blog.
New bloggers that are not too interested in tweaking your blog or getting all the latest and greatest features and plugging offered by self-hosted options. Starter businesses that need a web presence but don't have the resources for a hosting plan.
…
*Most hosting providers cost anywhere from $3-12 dollars a month and they almost always come with a free domain name (in case you don't have one already) I recommend: Blue Host, Fat Cow Host, Host Gator and Go Daddy.
**Widgets are HTML or PHP code added normally on sidebars or footers. Example: Google Friend connect, BlogHer, PassionFruitsads, Counters, Google Adsense, etc.
To wrap things up my advice would be… If you are considering to start a blog with serious aspirations and consider advertising or blogging for profit, I would recommend you to go with a self-hosted option (WordPress.org) The set up and Design can be a little tricky, but with patience a lot of Google or just by hiring a Designer to handle all that for you (*wink* + big wave!) you can end up with a very profesional blog or website.
If you blog as a hobby and have no plans of monetizing in the long run I would suggest you to consider Blogger or WordPress.com – the set up is super easy and there are a variety of very economical templates, as well as some free ones (I offer a couple of Free templates in my Website and premades in my Shop) and while they might not have quite the same level of features, for someone that does not need much they are perfect!
And that's it my friends! I hope this helps you undertand the differences a little better and if you are hunger for more check out this post by Darren from Problogger.
I hope you have a wonderful day!
https://www.howjoyful.com/wp-content/uploads/2013/02/blog-tip-1.jpg
100
100
Joy
https://www.howjoyful.com/wp-content/uploads/howjoyful-logo-1.png
Joy
2013-02-22 10:00:34
2017-09-10 18:57:23
Blog tips: Choosing a blogging platform (Comparison table)