Some time a go I shared camera bags inspiration because I wanted to make a bag to protect my recently upgraded camera. Well, I kind of changed my mind in the process and instead of making one camera bag, I decided to make a camera bag insert. So I can switch it with different purses, you know I kind of like to match my bag with what I am wearing :P AND I do not have the money to invest in different color camera-purses. So here is my solution, I made this insert (It already fits all my big purses) and I plan to make other purses that fit this little cutie =]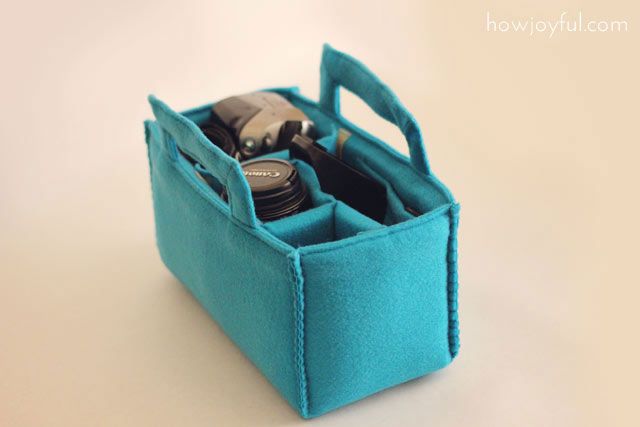 My plan for this post was actually share the tutorial right away, but I'm pretty sick so I am trying to stay away from the computer, so the tutorial will come later on =] pinky promise!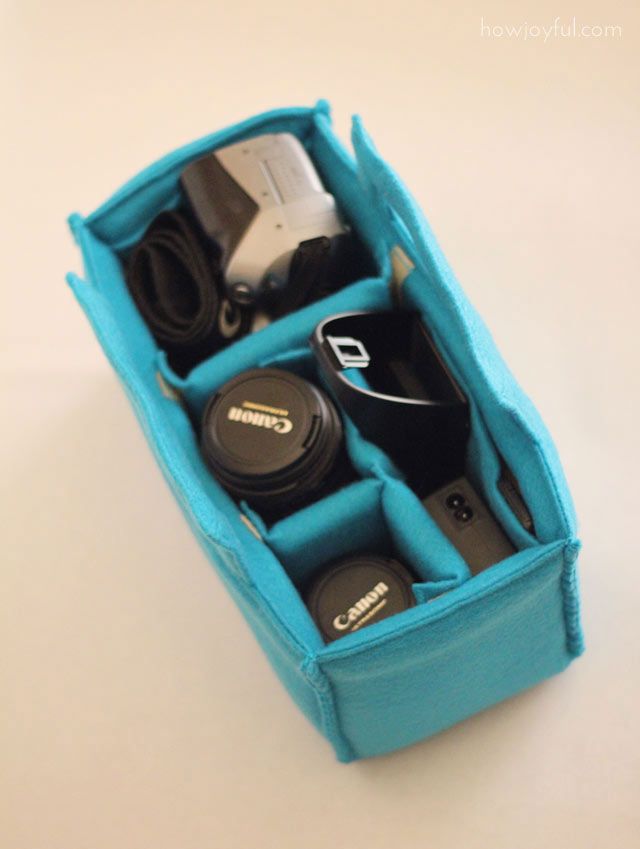 In my last visit to the thrift store I scored 8 yards of this turquoise felt for $5 – I was pretty excited because it was EXACLY what I was looking for and in one of my favorite colors! Lucky me =] So I used left over foam from the laptop bag I made some weeks a go and Velcro. The sewing was actually easier than I expected at first and I can not be happier with my camera insert!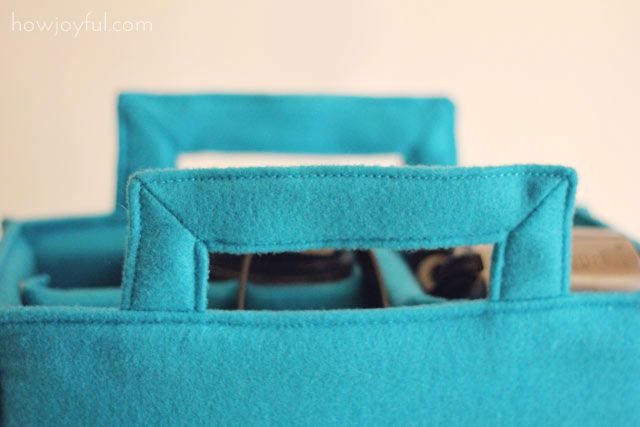 The shape of the handles is not very "weight friendly" specially when they are made out of felt, but I only grab it from there to lift it and change it from bag to bag, so to my it's not a big deal. I just really wanted to have a straight edge look =] I also topstitch the edges because I wanted the look of the seam in the outside, I think it looks good. What do you think?
I actually used the old camera as the model for this pictures, because… well my actual camera needed to work! So just pardon the "vintage look" hehe. And what exactly do I carry in my to-go camera bag?
– Camera with the EF 50 f/1.8 lens on it
– 2 extra lenses
– Battery charger
– 2 extra batteries
– Remote control
– Flash light diffuser
– Tripod hook
– extra memory card
– USB flash-drive, why? I don't know I just always like to carry one, you never know when you might have a file-emergency LOL
… and everything fits perfectly =] I also made 2 little pockets for the little stuff.
there you go! my new camera carrier-insert. sturdy. pretty. turquoise! accepts any kind and color purse – not clutches allowed sorry!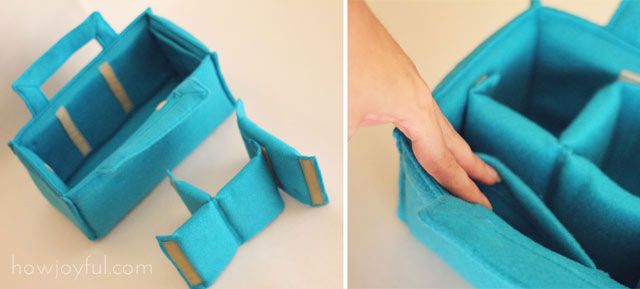 On another note, I will be going on vacations at the end of the month and I am arranging some guest post to keep the blog going while I spend some time with my family in Chile, so if you have a tutorial or a crafty post you'd like to share head over to my submissions page and send me quick note! I'd love to feature some fresh ideas, specially from new blogs!
p.s. The tutorial will come once I feel better OK? – Have you notice I am leaning towards turquoise A LOT lately? No wonder it's one of my business main colors, hehe.
Have a great day!
XO
https://s3-us-west-1.amazonaws.com/howjoyful/wp-content/uploads/2011/09/27075141/camera-carrier-insert-100.jpg
100
100
Joy
https://www.howjoyful.com/wp-content/uploads/howjoyful-logo-1.png
Joy
2011-09-08 14:54:51
2017-09-10 18:57:35
Camera carrier insert - the preview