Hello! I'm Billie, a Canadian girl who happens to love art, design, and coffee. Or, otherwise known as Billie Monster. I was so excited when Joy asked me if I'd like to guest post that I may have even let a squeal of joy slip out! I have been a huge fan of How Joyful ever since the very first time I stumbled onto her blog.
If you already know me from my blog or my etsy shop, then you know that I really enjoy making handmade jewelry among other things. So I thought that'd be a good place to start for my very first guest post EVER! *yay* When I found a pile of lonely and neglected red fringe trim in my stash, I knew they'd make the perfect tassel earrings. I've never made these before, nor have I seen a tutorial on them anywhere, so it was going to be my first time trying the technique out, but I think they turned out great.
This post contains affiliate links. This means that if you purchase using my links I will receive a commission at no extra cost to you. Read my full disclosure.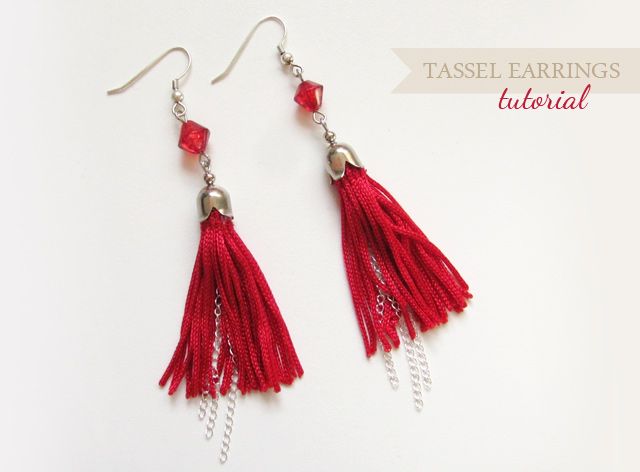 MATERIALS:
– fringe trim
– earring wires
– chain
– beads and bead caps (your choice)
– 2 eye pins
– jewelry pliers and wire cutters
– scissors
– glue gun
– Fray Block (or something similar)
1. To determine the length of fringe you need to cut, start rolling one end of fringe up and kind of stick it into the bead cap until it fits nice and snug but not too tight, then cut it there. Cut 2 pieces of trim.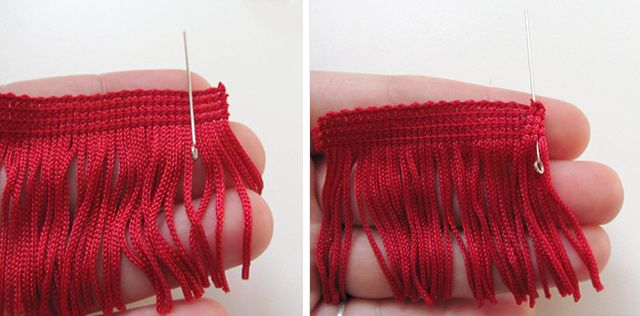 2. Take an eye pin and a piece of your cut trim and starting from one side, begin rolling the fringe around the headpin gluing as you go, until you reach the end of the trim. You only need to use small dabs of glue. You'll end up with a small roll of fringe with the headpin right in the center. The round part of the eye pin should be facing down and hiding inside the fringe, and the long piece sticking up.
3. To make sure the cut edge of the trim doesn't start to fray over time, dab it with a bit of Fray Block (or something similar).
4. Now you are ready to put your bead cap over the pin that's sticking up, and cover the top portion of your fringe roll (where you might see a bit of glue here and there). Then string on any other beads you want to use onto the eye pin. I just used a small round metal bead and then closed the eye pin leaving a simple loop to attach more bead components to next. If you don't know how to do this, here is a great video showing you how to make simple loops.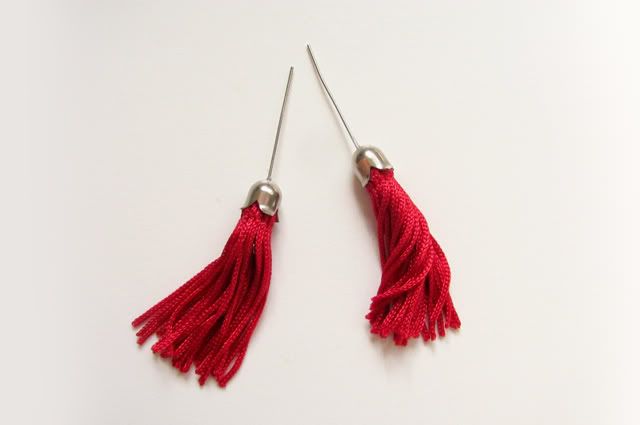 5. Decide which beads you want to use for your earrings and start making the rest of your earring components. I used a vibrant red crackle bicone bead for each of my earrings. For beginners, when making your bead components use the same technique for creating a simple loop from the video in the previous step, but make a loop on BOTH sides of the bead. To open and close the loops correctly, take a look at this video for opening/closing jump rings, you use the same technique.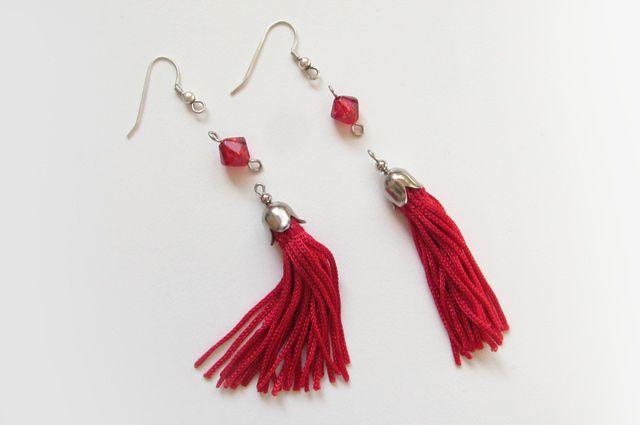 6. Now attach the earring portion to the ear wire. Open up the loop on the ear wire, string your earring on, and close it up. You can leave it just like that and call it done or you can move onto the next step.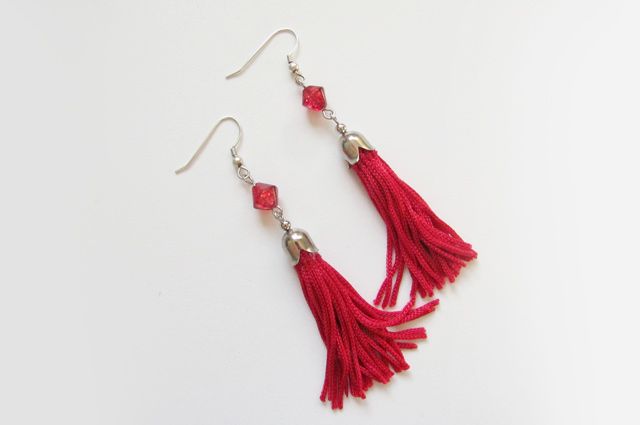 7. Next, you are going to attach some chain to that loop that's hiding inside the fringe. I cut 3 pieces of thin chain in varying lengths (they don't have to match) with my wire cutters, but make them longer than the fringe so they stick out from the bottom. Then, attach those to the loop. Do the same for the other earring.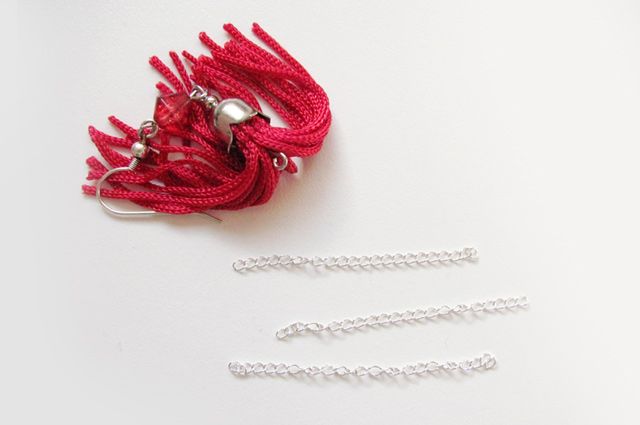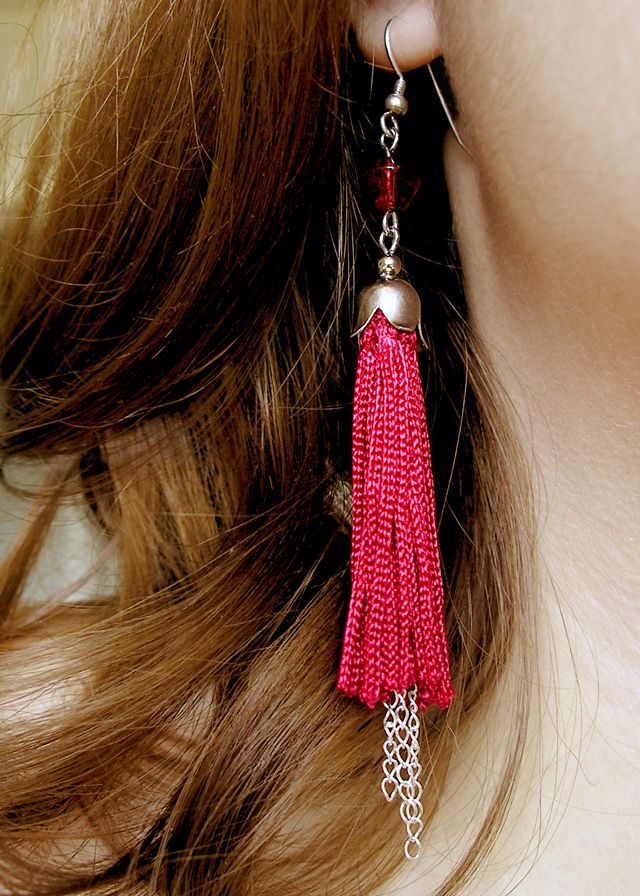 I hope you like your new earrings! Thanks so much for having me – it was a joy (teehee)! I hope you'll come visit me at Billie Monster sometime!
………………………………………………………………………….
Thank you so much Billie for sharing this lovely tutorial with all of us, I so want to try to make them!
Billie is a very creative Designer, she has a lovely collection of tutorials you should all check out in her blog, and for more of Billie you to follow her on Twitter and visit her lovely Etsy shop =]