Elizabeth Nixon is a journalist and lover of art, design, and throwing parties, which she writes about on her blog Clementine and Clover. Nixon works as an editor at Lifescript.com, a site devoted to healthy living for women.
With autumn here and comfort foods beckoning, it's easy to slip out of your healthier summertime habits and act like a bear beefing up for winter. I don't know about you, but those extra pounds really zap my energy! This fall, I'm doing things differently.
What really helped give me a kick in the pants to start a diet was spying this infographic by Sarah Kliff in The Atlantic on what Americans eat over the course of one year. It succeeded in grossing me out, yet helped me jump-start my diet.
Years of reaching for brownie bites from Trader Joe's and an aging metabolism have caught up to me. Another benefit of dieting – it would be friendlier on my wallet. I'd buy fewer expensive processed foods, eat out less, and I wouldn't need to shop for as many clothes if I always stay the same size.
My lifestyle change involves the following plan. It's simple and three-fold:
1. Limit sugar intake. After reading this interesting article in the New York Times on how fructose is a toxin to our bodies, I decided it was time to nix it, as much as I could stand anyway. I'm not quite going cold turkey – I'll still be adding a spoonful to my coffee and indulging in a few brownie bites now and then. What I intend to nix entirely, however, are those "hidden" sugars. When I say hidden sugars, I mean the high fructose corn syrup that lurks in most "low fat" products. It's even in most breads. Check out this lecture about it by UCSF Professor Robert Lustig, MD: "Sugar: The Bitter Truth." He outlines the many unexpected foods that are packed with fructose. I recommend listening to it – it was the lecture that sparked the New York Times' article.
2. Stick to a metabolism-boosting diet with fewer calories. That means lots of snacking! Every three hours during the day noshing on 200 to 300 calories at a time. I was inspired to try this diet by this article from Lifescript.com (where I work) on how eating 5-6 small meals per day will speed up your metabolism.
Here's a recipe I invented for snack time. It's velvety-smooth, delicious and contains just 267 calories! Just mix up all the ingredients in a blender for one minute and enjoy!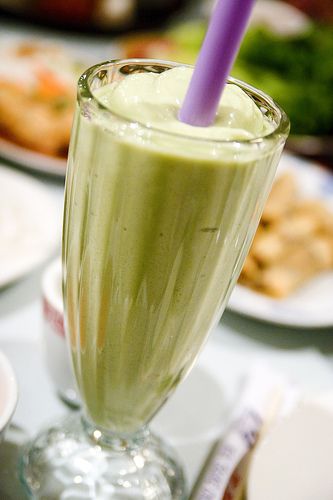 Avocado-Lime Smoothie
½ avocado
½ cup ice
1 tablespoon of honey
(1) 5.3-oz. package of Oikos plain yogurt
2 lime wedges
3. A cardio, abs and weights workout for 20 minutes per day. I'm not big on the gym by any stretch of the imagination so I try to get most of my cardio by taking long walks or playing with my 6-month-old puppy.
So far I've been doing this plan for seven days and I'm happy and excited to report I've lost four pounds!
Are you on a similar path toward adopting a healthy lifestyle? Or are you running interference against the holiday extravagances at the table that tempt us this time of year? What's your plan to stay healthy this autumn?
………………………………………………………………………….
Thank you so much Elisabeth for sharing your great health advice with us =] that smoothie looks delicious! And if you want some more great articles you should definitely check  LifeScript where Elisabeth work as an Editor =] Or follow her on Twitter.
Also I wanted to announce the winner of the October giveaway, they are:
Sewing supplies – Ludmi | Fliers – Tasha
Congratulations and please contact me to let you know how to claim your prices!
https://s3-us-west-1.amazonaws.com/howjoyful/wp-content/uploads/2011/10/27075138/meonporch.jpg
100
100
Joy
https://www.howjoyful.com/wp-content/uploads/howjoyful-logo-1.png
Joy
2011-10-26 14:32:52
2011-12-11 13:15:00
Joyful guest: Elisabeth from Clementine and Clover