Hello everyone!  I am so excited that Joy has allowed me to guest blog over here  :)  My name is Liz and I blog at e.louise.  (If you followed Joy over from Weddingbee, you may also recognize me as Mrs. Beagle).  Anyways, over the last year or so, my blog has become a hodgepodge of home improvements, decorating, DIY projects, crafting, sewing; with tidbits of my life as a semi-newlywed and mama to my fur-babies, all while living in the best city in the world- Austin ;)
Today I thought I would share with you some handmade (easy! cost effective!) art that I've finally been able to hang up around my home.
Yarn Wreath:
I made this  my wedding almost two years ago, and I'm really happy with how it's held up!
This post contains affiliate links. This means that if you purchase using my links I will receive a commission at no extra cost to you. Read my full disclosure.
Supplies:  Styrofoam or straw, plastic wrapped wreath, yarn spool, hot glue gun ribbon, fabric or felt for handmade flowers or pre-made floral items from your local craft store (I often have good luck at either Michael's or Hobby Lobby– both stores always have sales and coupons!), and any other items you want to add for embellishment- I purchased the wire letter from Etsy.
How To: Hot glue one end of the yarn spool to the back of the wreath and wrap yarn around the wreath until it is completely covered.  Keep an eye on the yarn while you are wrapping so you don't end up with lumps.
Total Cost:  ~$20-$30 (depending on what you can find on sale and what you have on hand)
For more inspiration, go here and here.
Shadow boxes
This is a great way to display mementos.  I displayed the cake topper from our wedding and my husband's boutonniere.  Both boxes are lined with left over fabric from napkins I made (also for our wedding).
Supplies:  Shadow boxes, keepsakes, fabric
How To:  Pretty self explanatory :)  I pinned the fabric (to the back of the shadow box) and keepsakes (to the fabric) instead of gluing them so that I can change out the fabric later on if I change my mind, which inevitably will happen.
Total Cost: ~$10-$15  I found my shadow boxes at Michael's on sale for half off.
Fabric Strip Canvas Art
I had some left over fabric from a sewing project that I needed to get rid of, and came up with this:
Supplies:  Fabric- 1/4 yard cuts in different colors, Mod Podge, canvas, frame.
How To:  Cut fabric into 1/2″ x 5″ strips using a rotary cutter.  Arrange on canvas prior to gluing to get the color pattern you want.  Adhere to canvas using mod podge.  Add a coat of mod podge to the top of the fabric.  Let dry, frame and hang :)
Total Cost:  ~$10-$15
Earring Holder
I found this post on Modish and was inspired to make my own with a twist: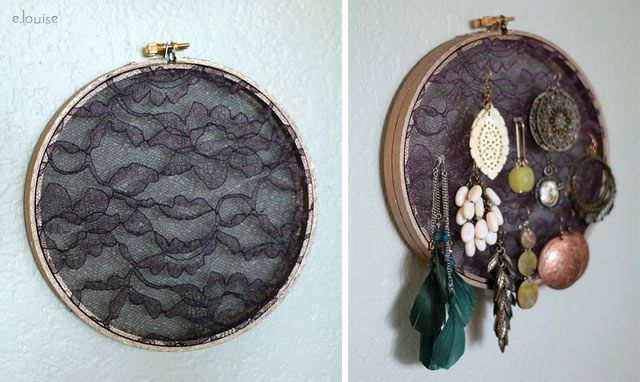 Supplies:  Two 7″ embroidery hoops, 1/4 yard lace + 1/4 yard coordinating sheer or quilting fabric, clear fabric glue, fabric stiffening spray, wood paint
How To:  Paint embroidery hoops and let dry.  Place glue on the outside of the interior ring  and lay lace fabric on top of it.  When it is in the location you want, place the exterior ring on top and tighten it.  Pull the lace tight and, once try,  trim the excess fabric flush with the back of the hoop.  Repeat this with the second fabric and embroidery hoop.  Spray lace fabric with the stiffening spray.  Let dry and repeat if necessary.  Once you feel that the lace is stiff enough, glue the two hoops together.  I think these look great either by themselves or with earrings adorning them!
Total Cost:  ~$10 
………………………………………………………………………….
Thank you so much for sharing your projects with us Liz! Don't you just love simple and easy projects? I think we all do =] So if you want some more of her follow her adventures in her blog, get her twitter updates of follow her on Pinterest!
And in another note, someone nominated me for the Blog Guidebook Top blog of 2011 (Thank you!) and I guess now is up to votes, I always have the worse of the lucks on this, but if you want to head over here is the link to vote for your favorite blog, I bet you want to vote for HowJoyful!
And if you don't I still like you!
hehe
XOXO