Many times while crafting, designing, sewing or just any creative process, we tend to do things that discourage us, or we simply don't do enough of the ones that DO encourage our creative process.
Today I wanted to share some pointers of the things that had helped me stay sane =]
This post contains affiliate links. This means that if you purchase using my links I will receive a commission at no extra cost to you. Read my full disclosure.
Mental health for Artist
Do not compare yourself to strangers in the internet
I think this is one of the most important things you should try to avoid (in any area), usually when we compare our self to other people, we don't consider how many years they have been doing what they are doing; Or their background in the area they are really good at.
When I was in collage I used to do that A LOT and it end up not being good for me, because I will end up sad, disappointed and frustrated. But then I realized I was comparing myself to people that had MANY years of experience on me.
And that was not fair, because even when you compare yourself to people that had been blogging, crafting, sewing or designing as many years as you have; we all do things in a different way, we all have a different process.
Some of us take longer to learn the same things others learn right away. So my friends, even though it's good to be inspired by other people, it's not healthy to compare yourself to others, because many times that will only bring you down.
Instead, look back at how far you've come, even if you are just starting, you have so much more expense than when you knew nothing about what you are now practicing =]
Surround yourself with what inspires you
One of the best ways to get inspired is by surrounding yourself with the things that makes your imagination go wild. And we all get inspired by different things, but it all comes down to our senses.
Most creatives are very visual, so having items that help you be calm or remind you of calm experiences, will help you turn the mental noise and focus on what you are trying to accomplished
to me it's all about what's around me, images, colors, shapes, etc. For other people can be music, food, nature, etc.
Identify what takes you to that mental state where you feel inspired and surround yourself with the triggers.
Pinterest has become one of my favorite places for inspiration, but when I want fresh ideas, getting out to pretty places is what really inspire me.
Don't be scared of failure, failing means you are trying
You know "practice makes better" is amazingly true and many times we seem scared to even try because we don't want to fail.
Well, project fail is never a bad thing, because even after failing you learned something new. Now you will not do that in that same way, when things fail, you should feel encouraged to find a better way to do whatever you failed at.
With each time you do not succeed you learn something new. And learning is a super fun, never ending process! So don't be scared to fail, be scare of not trying =]
What's obvious to you is amazing to others
I actually run into Derek Sivers's video a long time a go and I could not agree more, many times we give things for granted and don't realize that what to us is so obvious, to others it can be amazing!
And actually that happens more often than we realize.
To me is where the beauty of sharing comes from, sometimes we don't share because we think it's not a real contribution to anything, well think again, because that little tiny things can be the most amazing idea to others out there.
Share what you know
To me sharing is very -VERY- important.
Ever since I can remember I've always liked to help others and sharing is one of the most basic ways of help – I know in this case, sharing how you made something is not "life changing" kind of help, but you never know how many people might benefit from what you are sharing, or what you've already learned.
Even if you are just sharing how YOUR experience with a pattern was or something very basic or simple, you might help others without even knowing.
Celebrate your journey and accomplishments
Whenever you are making something from a tutorial or following instructions, do not be afraid to add your own personal touch to it.
Own whatever you are making, add a little something of what you like to a recipe, experiment and take your project one step further.
Because there is no need for you to invent the wheel to make a project successful, the wheel is already out there; now customize and make it yours =]
The best thing to do when a project is starting to get to you, is simply walk away.
Clear you mind do something different, because many times after a refreshing break, things will look different and that little thing that was starting to frustrate you might be just that, a small little thing that you can achieve a different way.
Experimenting with new materials, techniques or just to try a different approach can many times inspire a total different side or your creativity.
Many times going out of our comfort zones is how we can push our creative side further.
Don't be scare and try something different, take risks and your creativity might take you to a whole another level =]
I've found that the people that inspire me the most are very humble down to earth people. Being able to be humble and super good at something is one of the qualities I admire the most.
Many people out there think that after some time doing an specific thing, they are the masters of the subject (you know the big head syndrom); and even tho sometimes that could be true, it's also true that out there there WILL be someone else that knows WAY more than we do about that specific topic; So my advice is to always try to stay humble.
Before your head grows too much, touch ground and realize we all make things in different ways. Never under estimate other's work either, because you never know who you are going to run into/or who might run into your blog :P
INSPIRATIONAL VIDEOS
*Obvious to you. Amazing to others. – by Derek Sivers
–29 ways to stay creative – by TO-FU
As a reminder to myself I made this little printable, but as always I also wanted to share with all of you of Theodore Roosevelt's quote "Comparison is the thief of joy", so I hope you all enjoy =]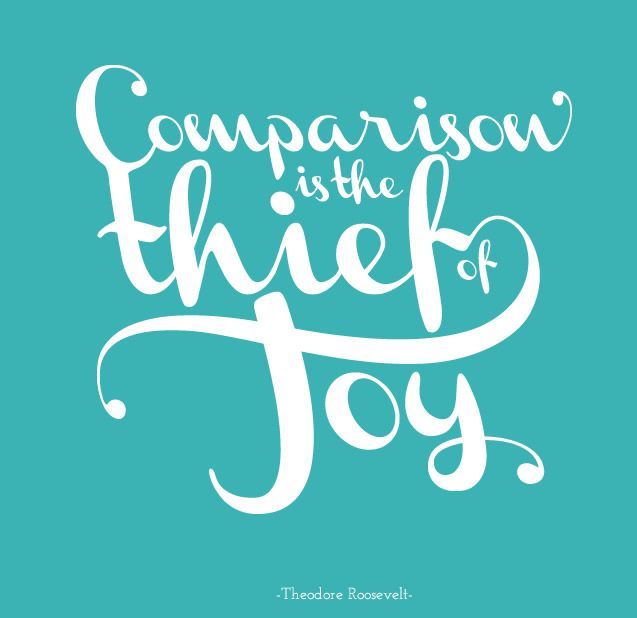 The top file is a multipage PDF file with 6 different colors, to see that file you will need to have Abobe Reader installed on your PC or MAC. Without the program you will not be able to download or preview the file. If you have troubles please visit this link, because each browser works different.
Below you can download each separate colors individually, all of those are High Resolution 8×11″ PDF files, save them in your computer by secondary clicking on the file once it shows in your browser or drag and dropping (depending on your computer and browser).
Print using amy image manager. All files are hosted in a free server so sometimes there can be down time (because of the bandwidth), please wait and come back later to download.
And as a reminder I made a little print for my office using a very cute free font, Channel by Måns Grebäck. I customize it to make the quote pretty and added some bright colors, who does not LOVE colors? huh =] So here it is, I hope they can help you too.
I just ask you lovelies to use this only for personal/non-commercial only, if you share them or blog them please share a link to this post and not directly to the download file-> you know that's considered stealing and I made this for you to enjoy. Thank you!
* This printable is provided for personal, non-commercial use only.
Check the Site policy at the bottom for further information, Thank you!