There has been a lot of buzz about copyright Infringements on the web lately. Mostly is a small artists that are getting copied by big companies.
And in all of those cases, I think it's very clear to distinguish right from wrong. Inspiration and copy are two very different things, for most people the line is not very visible and that's when trouble can knock on the door.
This post contains affiliate links. This means that if you purchase using my links I will receive a commission at no extra cost to you. Read my full disclosure.
The whole inspiration v/s copy issue is a huge one, but it's not what I want to share with all of you today (that issue itself requires a separate post).
Because of this ongoing rips off that's I've seen online, I've had long conversations with Ken about "what would I do" if something like this happens to me, so I started researching Copyright Law and in my attempt to "protect" myself I found out that some of my work (the lettering I've done of someone else's quotes) could have been infringing Intellectual property/copyright/Right of Publicity laws.
I felt super ashamed and VERY sad that I was so uninformed.
As all of you know Etsy is full of artwork created from quotes, songs, and movies, so I never questioned the issue, because I saw how many people do it I assumed it wasn't wrong, but now that I've read and researched, I've realized that it's a lot more complicated than what I initially thought.
I started wondering about the issue when I started sketching for my HowJoyful calendar. Halfway through the calendar, I realized that some of the quotes I was planning to use had been copyrighted, so I could not use them.
The legal part of all this can be very confusing because each quote and author *might* have a different Copyright, Trademark or Right of Publicity.
So each one should be researched and "cleared" in order to be safe to use. And trust me I've tried to do this research myself and it has been crazy, so a Copyright Attorney is a right person anyone that want to do this should consult with.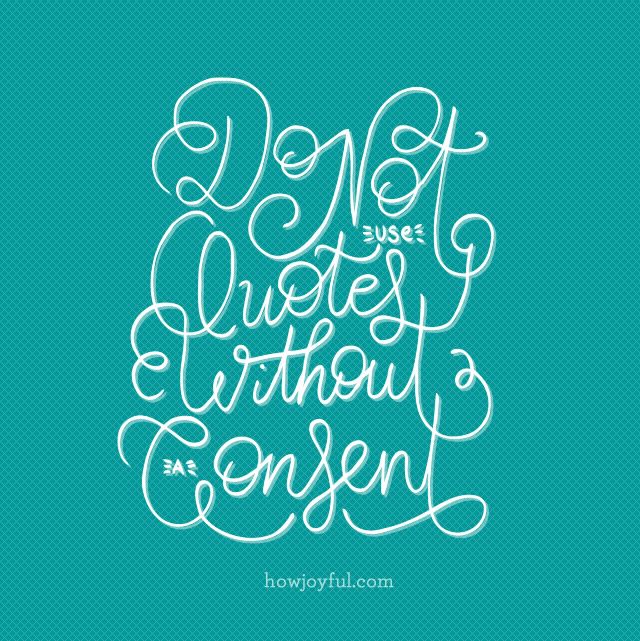 During my research I came along this great article written by Bruce E. Burdick on the Use of Famous quotes and also AVVO's list of questions about the use of quotes as the base of your work, this was super helpful because the ones responding are real lawyers specialized on the subject, what I learned from reading many -many- questions and all their answers is that:
If you are selling a product using someone's quote, you are not just using the quote but also the likeness and name of the author, so it's not just an Intellectual Property issue, it's also a Right of publicity and many cases also Trademark.
Depending on the date some work could fall into the "Property of the people" category, like in the case of Mahatma Gandhi's work (Read the article here)
To be safe when using someone else's work as your inspiration is best to contact an Intellectual property Lawyer and discuss the author, quote, reference and how you can request a license or identify who you should stay away from.
If you want to be safe, don't use other people's words and when creating your own, do a Google search and see if someone else is using them already, be especially careful to Trademark (misuse of trademark "slogans" or short phrases can also get you into big trouble)
So Quotes, just like a photographer's photos or the painting of an artist, are the intellectual property of the authors, each quote is different depending on the author, the year of publication and the source of the quote (movie, book, interview, etc).
Sometimes people think that because it's words and there is no tangible good, copyright doesn't work the same way, but it does. In many cases searching for the person or organization that holds the copyright and right of publicity of a quote/name can be super frustrating, but it would be even more frustrating to face a lawsuit for infringements to copyright, intellectual property, trademark or right of publicity, right?
In my personal case, I've removed every piece of artwork that was based on quotes and I've only re-add them once I've cleared the quote/saying. In the case of my #howjoyfulcalendar, I decided to use things that I've come up with instead of quotes to avoid any problems, and this process has been even more fun than working based on quotes.
So my recommendation to other artists that base their work on Quotes is to do the full homework, see who holds the copyright, ask for permission, or simply come up with your own wording for your art pieces (so much more rewarding!)
Below I've listed a few resources to help out with your own research, I really wanted to spread the word about this issue and if you could as well, it would be awesome!
USEFUL RESOURCES
I hope this post can help other's so they can make informed business decisions because even if you are selling only on craft fairs and Etsy and consider yourself as "not even a business" – if you make a profit, you are a small business! – And as such people that have the copyright of those quotes can come after you, and none of us want that :)
Information is power =]
So research and learns from my own experience, now I know that I have to be more careful when picking up sayings and even If "I came up with it" chances are that someone else also did, so Google it anyways ;)
I hope you all have a wonderful day!