Hello my lovely readers!! After never ending hours of traveling and working in Argentina, finally I have time to chime in and say Hola! I am so excited to be in South America and to go to Chile next week =] I wanted to share a recipe for homemade sushi I tried  the week before I left and also let you guys know that I will be having a few guest bloggers while I am away so I hope you like what they have to share. I also have a couple of tutorials lined up and I will be sharing a little about the new look HowJoyful will get next month! I am so excited to reveal a new logo and complete new design. So yeah even tho I am gone this place will be busy!
Ok, so now that you are all updated let´s talk sushi! I do have to warn you guys that this was my very first attempt at homemade sushi, but I totally LOVED it! It's not just delicious but SO much fun to make.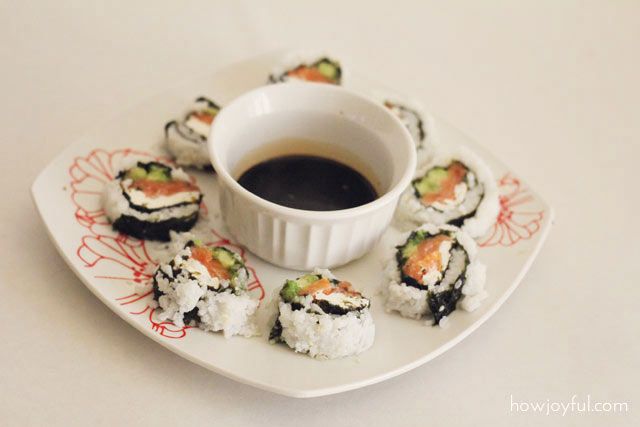 The roll in the top, was my very first attempt rolling  and cutting, so it was a mess. The one below was my second time and I learned from my mistake because while I cut the roll It pretty much fell apart, so for the next I actually wrapped the roll in plastic too, so it kept the shape when I cut, much better huh?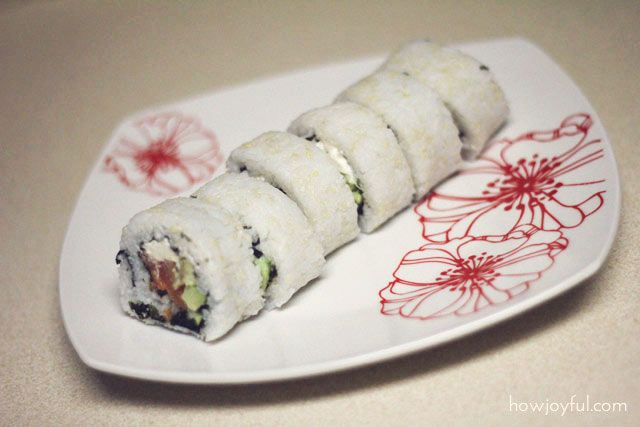 The sushi I made was kind of a mix between a california and a philadelphia roll, with exessive amouts of avocado (YUM!) OK, maybe not excessive, but with a lot considering the size of the roll =] I think one of the most important things is the sushi rice, it was my very first time making rise that way, it end up being just the way I needed it.
INGREDIENTS
– Avocado in slices
– Cream cheese
– Fresh Salmon in thin slices
– Toasted sesame seeds.
– 4 sheets of nori (toasted seaweed)
– Sushi Rise
UTENSILS
– bamboo mat wrapped in plastic
– sharp knife
PREPARATION
To prepare it I watched the video in the DIY sushi site, they explain how to make California rolls, the video is very easy to follow and event ho my first roll was not very tight (another reason why It was such a a mess when cutting) after the second attempt things got better =]
I hope you all are having a great day!! I am having troubles syncing my laptop with my work iMac, so hopefully today I get to read my emails (I have not been able in a week now)
Miss you all!
XOXO
https://s3-us-west-1.amazonaws.com/howjoyful/wp-content/uploads/2011/09/27075139/sushi-100.jpg
100
100
Joy
https://www.howjoyful.com/wp-content/uploads/howjoyful-logo-1.png
Joy
2011-09-29 08:38:36
2011-12-10 22:00:03
Recipe: Homemade Sushi