If you follow me on Instagram I *might* have overloaded your feed with the sketches of the hand-lettering pieces I've been working for my #howjoyfulcalendar. And you might also already know that my plan is to send over a big part of the profits to a convalescent home in Chile, to help feed abandoned grandpa's and grandma's. But that's just the summary. Today I really want to share the story behind my project so all of you could know why this means so much to me.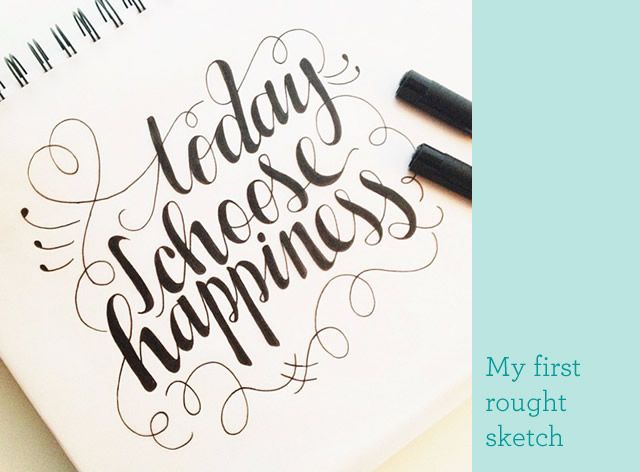 This post contains affiliate links. This means that if you purchase using my links I will receive a commission at no extra cost to you. Read my full disclosure.
I consider myself a very fortunate and blessed woman, I've always had food in my table and a roof over my head, that to me is already a HUGE blessing. My parents did everything they could so that I never experience hunger and cold, but they were not as fortunate as me when they were kids. They were both from very poor families and their stories were embedded in my heart at a very young age.
Another strong memory is the fact that my grandma had to be put in a convalescent home because none of her children (my Mom included) could really host her in their house, she suffered from Alzheimer's and at that point had the behavior of a 7-year-old (I was 7 at the time and we used to play dolls just like another friend) My Mom didn't have the means to give her the care she needed, so she was put on a Donation-funded convalescent home, a couple of years after that we were able to have her at my Aunt's for a few months before she passed away, at the end she was able to be with the people who loved her and that's the part I choose to remember all the time. This is something that I don't really talk about, because I just start crying, whenever I think about her I wish I could have done more, but I was only 7 years old, there was not much I could do.
Helping others has always been something I try to do in my every day life, back in Chile I used to volunteer to visit and give food to people who lived in the streets. But the older I got the busier I became, for some reason along the way I set that urge a side. After College I focused on getting a job and helping my own family – and that's not a bad thing, but for some reason I kind of excused myself from doing more by only donating a small amount of money to a cause each month and kept thinking that "whenever I make more money, I will be able to help more" and "whenever I have more time, I'll be able to do more for others" – I actually think many of us have the will to do things for others and we get caught up in the "when I have more money" and "when I have more time".
A couple of months a go I read the quote "be the change you wish to see in the world" by Mahatma Gandhi and for some reason it hit me really deep, it really inspired me to change the way I was doing things, I wanted to create a project that will really help someone else. Follow by that thought were all of my childhood memories of my parent's stories and my grandma's last years of life. For some reason it seems like in Chile there is a lot of people helping children, single moms, etc. but the old ones are usually forgotten, sometimes it's just the fact that their families don't have the means to take care of them (like in my family's case) other times they are just abandoned and that breaks my heart.
And that's how the idea of the Calendar was conceived, I started drawing and at the same time I researched the homes of this kind in Chile, got in contact with the Fundación Villa Padre Hurtado and had everything set up so that I can send my donations and I also hope to go visit them in December =]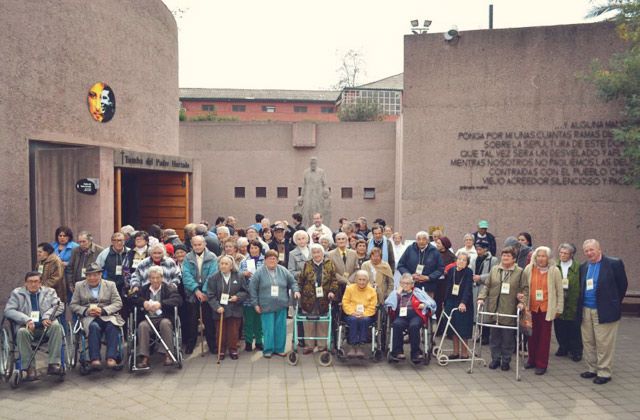 (this is the cover image of their Facebook Page and shows all the people that are under their care)
I can truly say that this has been one of the most wonderful projects I've worked on and I'm not even selling them yet (I'm hoping I can have them ready and a week or so more) I feel very blessed that I'll be able to contribute to their well-being is a small way.
The inspiration behind the calendar as you can read is very personal and emotional to me, and in this case I felt that you all should have the full picture to really understand my project and the reason I am so extremely excited about it!
( #howjoyfulcalendar is the tag I am using to refer to my project in social media )