If you follow me on Instagram, you probably saw the little previews I did while I was working on this project. I am so happy to finally be done and be able to show all of you my labor of love =]
This is my first Nursery project, a fully DIY Elephant lamp. When researching for inspiration for the nursery I found this amazing lamp by Jonathan Adler. It was just like what I wanted, with only one downfall the price-tag is $395.00 – So very quickly I had to forget about it, instead I planned to make my own version of an elephant lamp.
This post contains affiliate links. This means that if you purchase using my links I will receive a commission at no extra cost to you. Read my full disclosure.
I wanted mine to be gray instead of white, and with more details than the Jonathan Adler's version. I wanted my elephant to be in a slightly different position and even tho at first I didn't plan for it to have a pedestal, the $5 thrift store lamp I got (to use the socket and structure) worked perfect and I kept the pedestal to give it a little bit more height.
I paired the lamp with a lampshade I recovered with a chevron pattern in red and white. I just love the way the colors mix together =] so now, let me show some more images of the finished lamp so I can also share how I made it!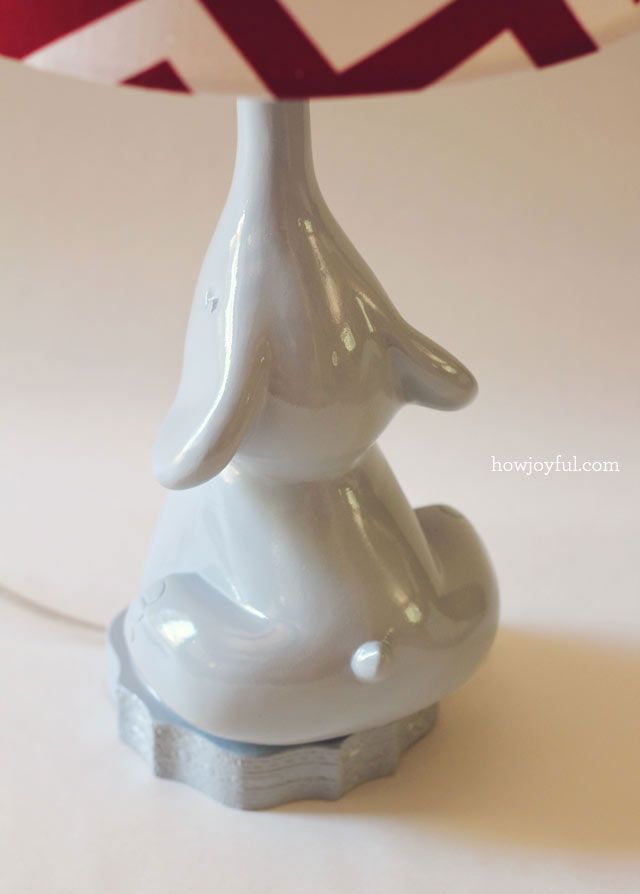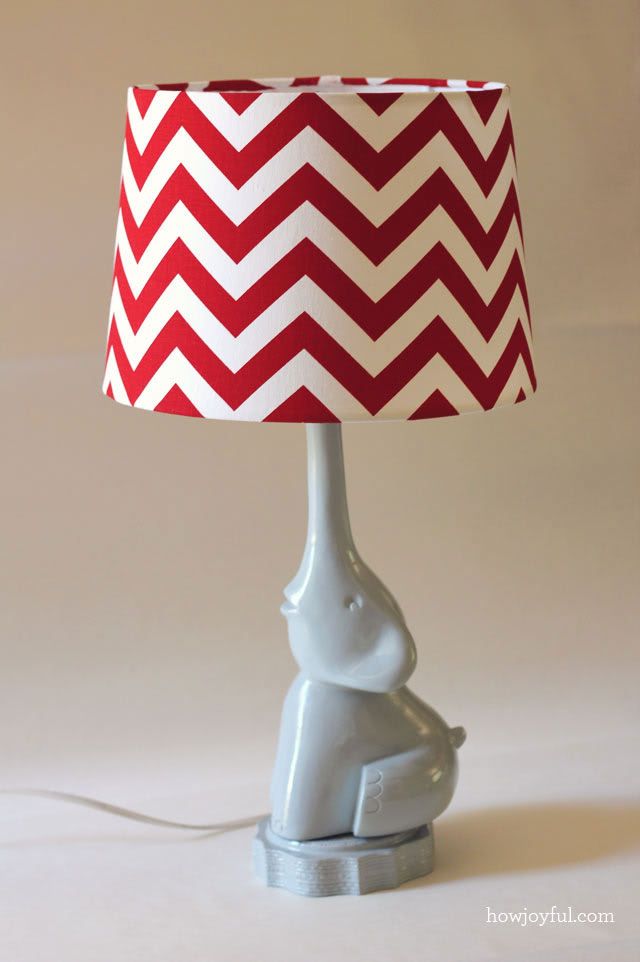 I didn't set this post as a tutorial because I mostly free hand shaped everything, I didn't follow any pattern or image, so it would be too hard for me to explain how to make one, but if you feel creative I can share the materials I used and what my thoughts were, who knows maybe this can inspire someone else so try something similar, right?
I started with a thrift store lamp that I replaced the cord because it was pretty bad, the lamp only had a tube from the base to the socket, so it worked prefect for me to glue my 2 rectangles of styrofoam (I got the styrofoam from the packaging of our new couch, but you can get any shape of styrofoam at craft stores), I carved a little round shape on the center of my styrofoam so that the tube could be placed there and glue it with silicone (I've found that silicone works wonders when gluing styrofoam to other surfaces, in this case metal) I wrap everything tight and let it dry for at least a day.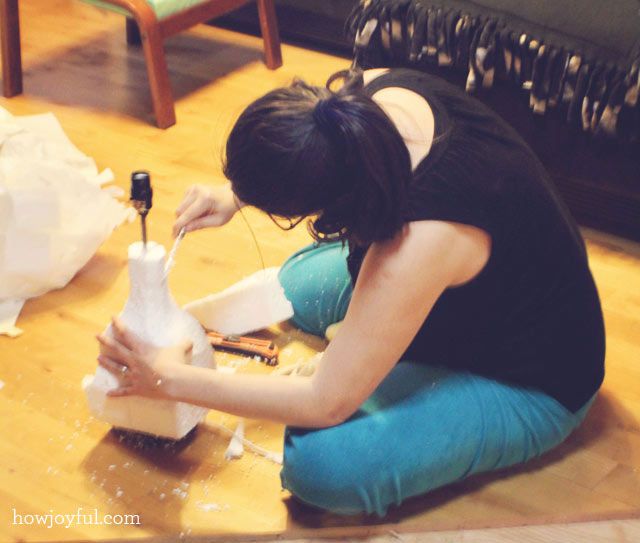 After my block was ready I grabbed a kitchen knife and started shaping my elephant. I know there are fancy styrofoam tools that make this kind of projects easier, but I just used what I had around =]
Once my knife shaping was done, this is what I had, it didn't look much like an elephant, but i could see the potential lol
My next step was to sand and give a more detailed shape to the elephant using sand paper, I used an 80grt first for all the shaping and a 120grt for the details.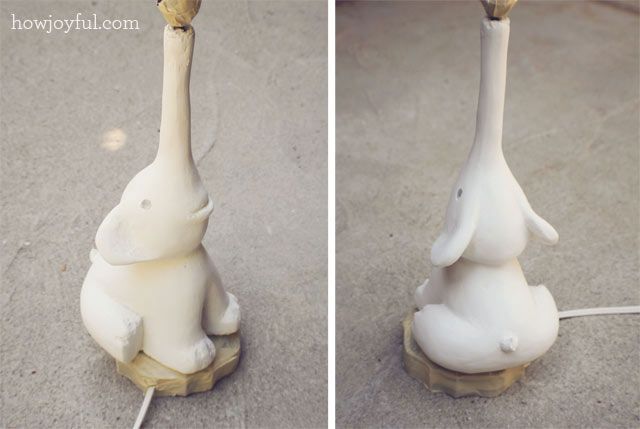 Then I had to test my patience when adding layers and layers of wall mud (drywall compound), I first applied the first 3 layers just using my hands. The only problem with this is that you have to apply a layer, let it dry and then go with the next, so I would do one in the morning and one in the afternoon. The above pictures show how the elephant looked after the first 3 layers.
I sanded the elephant using a wall mud mesh, I sanded before applying the next layer so that the build up would be as even as possible, that way the whole elephant would have a thick layer over it. I used a brush to apply the mud after the first 3, because that would give me a smoother surface that didn't require much sanding. Above you can see how the elephant looked like after probably 9 or 10 thin layers.
I did the mouth and eyes by carving the wall mud, and building it up with a thin brush, I used a 400grt sand paper form here on because it's very smooth.
I did 2 different kind of feet, because I wanted to see how they look in order to decide, I did a very minimalistic ones for the back and a very thick ones for the front.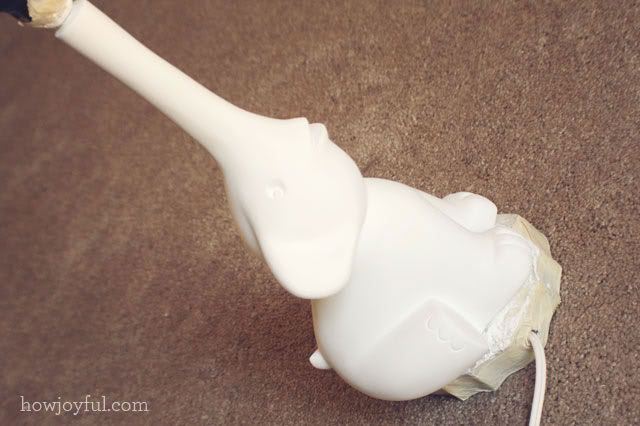 After staring at them for a long time and with the help of Ken, we decided we both liked the back feet way better than the front, and even tho the elephant was almost done, I decided to rip the front ones out and work with some more mud to shape them just like the front ones.
I had to give the front legs about 8 more layers to be able to build them up to the shape I wanted, so finally after a long wait (I had to let it dry longer after each layer because I used way thicker layers this time) it was time to sand with a little bit of water, so that the surface would be all smooth and nice for the paint!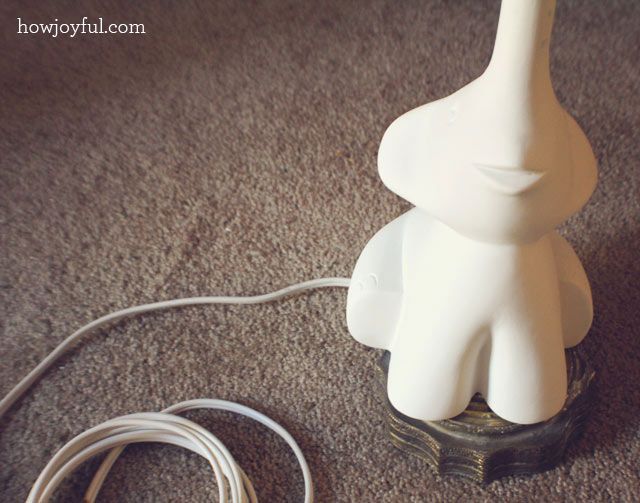 For the paint I just went with a gloss spray paint, I painted very thin layers but lots of them so that the coverage was better =] it was a long process, just because of al the drying but I think it was very worth it, after all our baby will have a one of a kind lamp, and mommy only paid $5 for the lamp and about $20 for the wall mud, sand mesh and paper, paint and new wire.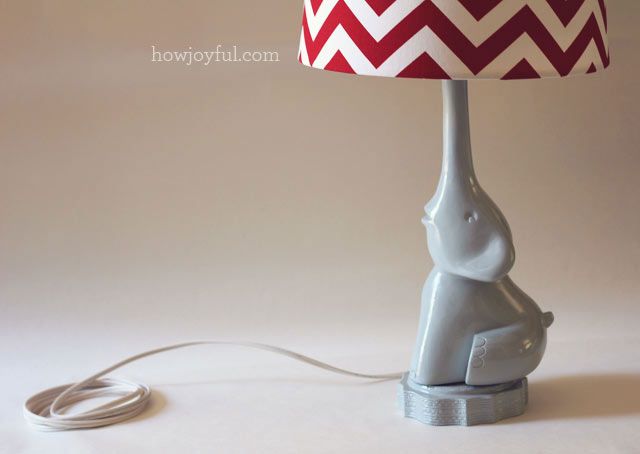 My Mom said that it looks like it's plastic or ceramic, either way it's better than for it to look like styrofoam and mud right? LOL – Ken and I love it and can't wait to put it next to the chair in the nursery (even tho the chair needs some recovering love before it goes to the room too)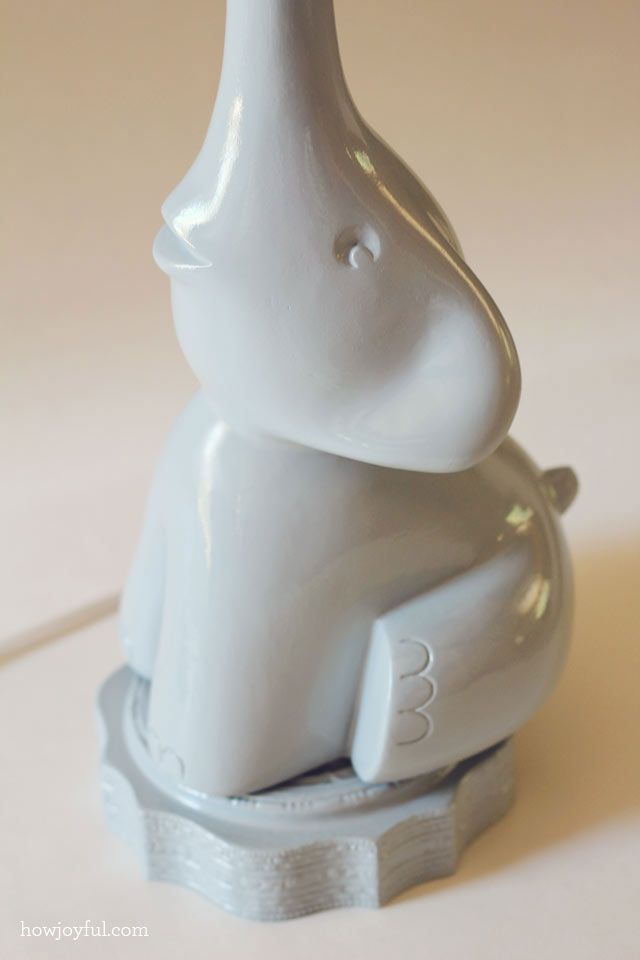 I am so excited to move to the next project and start to put the nursery together =] I am almost done with the office, so as soon as I finish here I can start full nursery mode!
I hope you all have a wonderful weekend! I have a couple of very cool post for next week so see you then!
XOXO