Some months ago I shared the Love wall art template, along with that one I made this one, but unlike the previous one I wanted to make this word different and special, so no cardboard. Instead, I used a piece of Styrofoam from a box we received last week. When I saw it a knew it was perfect for this project =] And instead of painting or covering it with fabric (my first idea) I decided to just go the Decoupage route with hot pink tissue paper. It ends up being so light! I just double tape mine to the wall and it works like a charm!
This post contains affiliate links. This means that if you purchase using my links I will receive a commission at no extra cost to you. Read my full disclosure.

**The download is a PDF format file, so you will need to have Abobe Reader installed on your PC or MAC. Without the program, you will not be able to download or preview the file. If you have troubles please visit this link, because each browser works differently.
THE MATERIALS
– 23×8 inches piece of Styrofoam (I just used one from a box but you can buy a piece at Michaels)
– Tacky glue
– 2 sheets of tissue Paper ripped unevenly with your hands
– Sandpaper
– X-acto knife
– Download the template below
– Marker to trace template
– Sponge brush
[ Click on Images to enlarge]
| | |
| --- | --- |
| | 1- Trace the patter and slowly start cutting around it, I used my x-acto knife with the smallest tip to make the curves smoother. |
| | 2- Be especially careful when cutting the bottom part especially where the C meets the R – And don't leave it on the floor – Curly ran over mine and broke it right there, but I inserted a toothpick and hot glue it together, problem solved |
| | 3- After cutting your word, make a fillet with your knife all the way around the edges, I cut just 1/8″ all the way around. |
| | 4- Once the chamfer is ready you can sand your piece to make it smoother and to round the edges. |
| | 5- Now it's time to decoupage, I used about 2 sheets of hot pink tissue paper, I thought about using different shared, but the fact that the Styrofoam is white game me enough texture when gluing in an uneven pattern. |
| | 6- I mixed 1/8 cup of water with 1/4 cup of glue and used the sponge brush to brush over the Styrofoam and then carefully place the little pieces. |
| | 7- After I finish and everything was almost dry I gave the whole thing a second coat of glue and water and you are READY! |
I really like the texture it has and the different shades of hot pink, now I just need to find the perfect place in my office/sewing room to hang it =]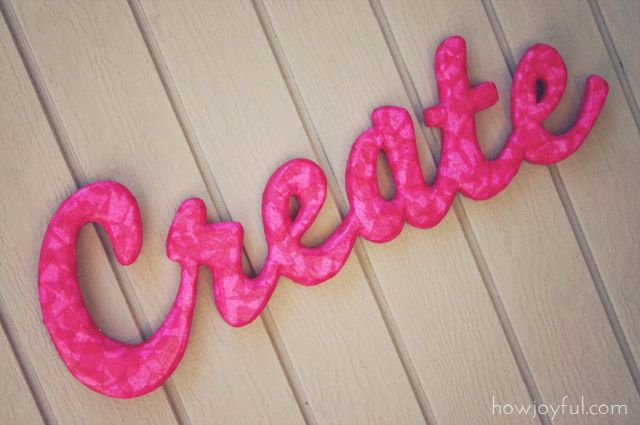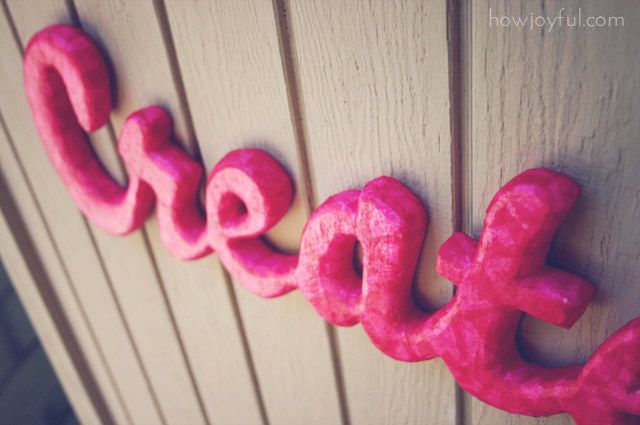 I hope you all enjoy and CREATE =]
ps. The font I used is called Bello you can purchase it here.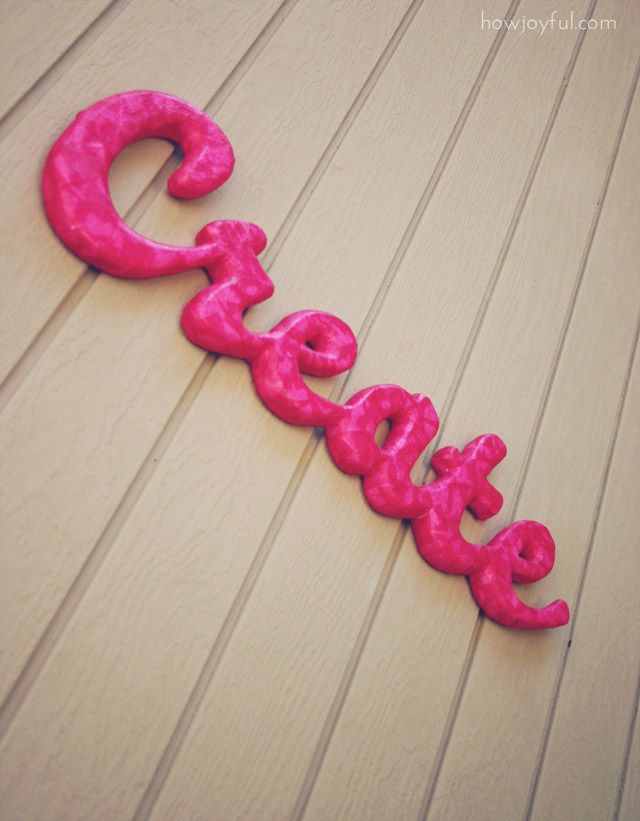 * This tutorial and template are provided for personal, non-commercial use only.
Check the Site policy at the bottom for further information, Thank you!