When it comes to beautiful calligraphy fonts, sometimes it can be hard to find a style that is exactly what you need for your project, especially without having to spend a lot of money while testing.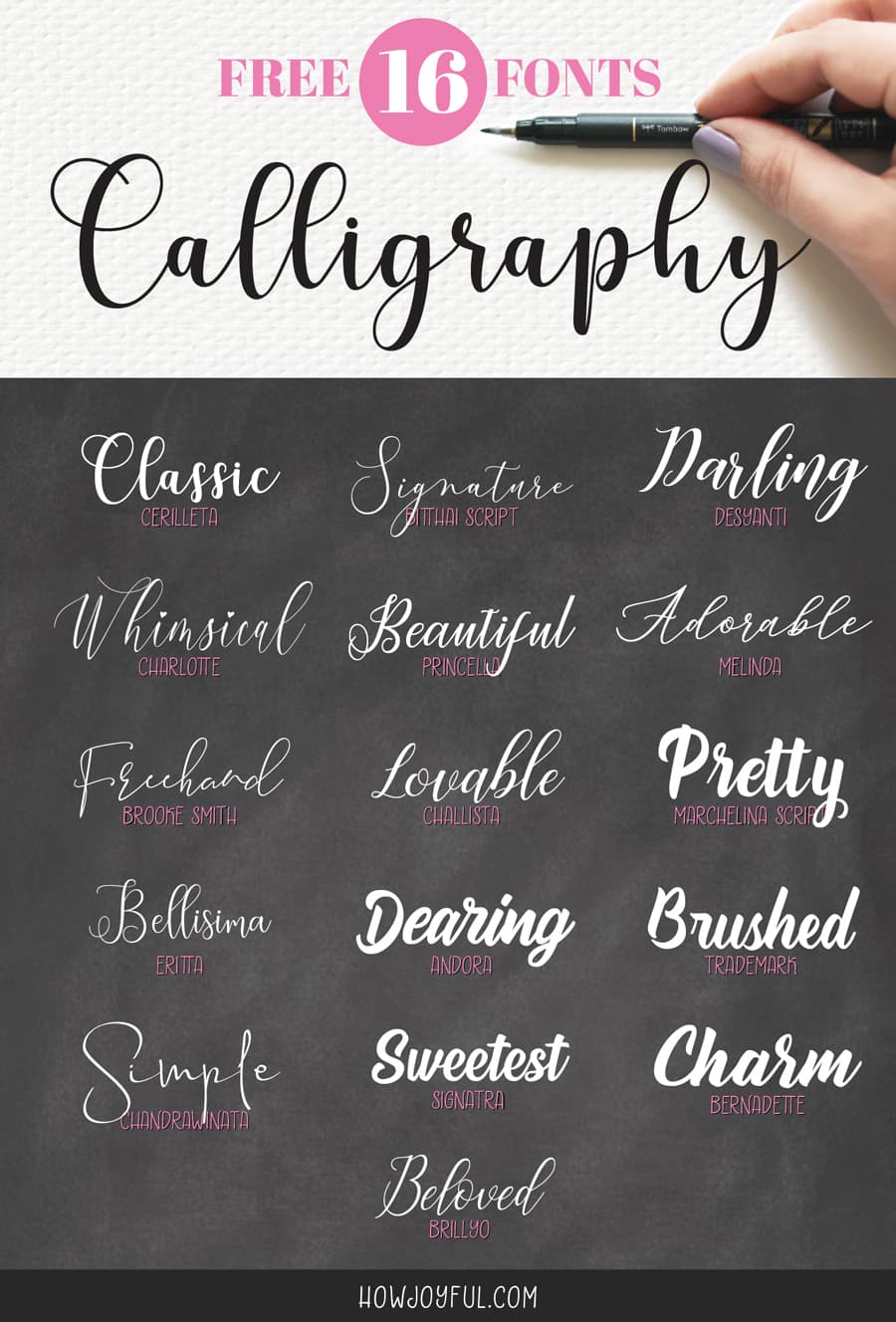 Today I am going to share my absolute favorite FREE calligraphy and lettering fonts to get your wheels turning and inspire your next project, whether that is a calendar, invitations, a simple blog graphic, logo, business cards or if you want to make a cute T-shirt or mug.
Table of contents
One important note is that all of these fonts are free to download BUT only for personal projects, and most of them do not include alternates or ligatures in the free sample.
So, if you plan to make a product with it (for profit) it means that you will need a commercial license, but no worries, all of them include a commercial license in their basic purchase options.
I am linking not only to the free download but also to the places where you can find the full version of the Calligraphy font WITH commercial licenses, both Creative Market and Font Bundles, include basic commercial use of all their fonts.
Also, if you plan to use the font in Web, PDF or App embed. You might want to check with the Designer first. Because this kind of use normally requires an additional more expensive license. Now, some designers include this use with their basic license, so it's always better to double-check.
FREE Calligraphy font alphabet worksheet
If you are looking for a calligraphy font alphabet worksheet to learn to draw different styles of letters, this 30-page worksheet is for you!
All you have to do to receive the worksheet automatically in your inbox is to subscribe to the newsletter below. See you in the inside!

If you are already part of the HowJoyful Tribe, you can access this set of worksheets inside the Letter Vault. And if you want to see more Font Calligraphy alphabets, check out this post where I not only share how letter families are classified, but you can also see full font alphabets and historical alphabets.

---
---
---
---
---
---
---
---
---
---
---
---
---
---
---
---
---
---
---
---
---
GET THE FREE CALLIGRAPHY FONT SHEETS
If you are looking to learn how to create different styles of letters in Calligraphy. This is the perfect worksheet for you. There are 30 pages of different alphabets with different calligraphy fonts. Download them below, I hope you like them!

I hope you enjoyed this selection of FREE Calligraphy fonts and if you have any other style you would like me to cover just let me know in the comments.
Happy creating!