Check a behind the scenes look at how I design a HowJoyful sketch for my header and overall new design for the blog. Back in September, when I decided that it was time for HowJoyful to have a facelift, the very first thing I did was grab some paper and a pencil to draft some ideas. Here you can see the process and final design.
I have to admit that when it comes to me as a client I am the worst, so I end up with 2 completely different ideas and 2 completely different concepts. I loved them both but I had to make up my mind and choose, and that's what you can see now on the blog.
Since I really liked one of the rejected drafts I decided that it would be nice to show you all a little bit of behind the scenes as an excuse for it to get a little exposure, I just feel sad no one got to see it!
The least I can do is give it 1 post of fame. So here it is, the poor little How Joyful that went to the trash =[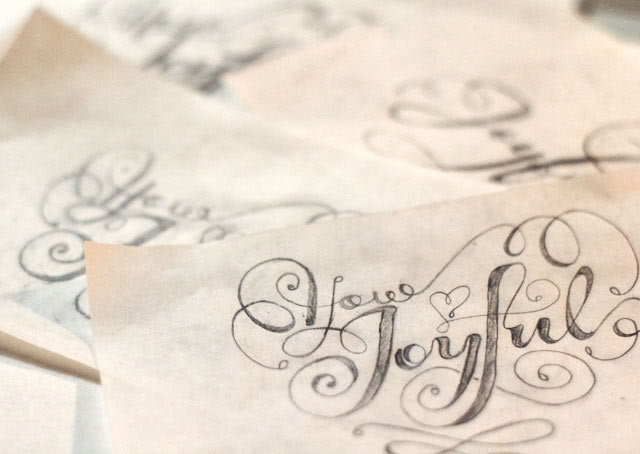 For this sketch I really liked the idea of making swirls in the shape of hearts with "How Joyful" but then I changed my mind because it seemed too busy and cutesy for my personal taste.
So I started exploring other ideas and another kind of lettering style, lines, and swirls. I ended up with probably more than 20 different drafts but this one below was runner-up =]
I still think I could do something with this, the one above was the last draft I did in ink and paper, but I also vectorized it. So, I would really like to actually do something with it since I spent so much time on that.
I think it could be another print to frame for my office, or maybe print it on fabric? I am not sure.
This was one of my first completely free-hand projects and I loved the process so much!
Now I really want to buy a new tablet to draft projects because my old one was only for PC so now I have no way to use it (the only bad thing about only having Mac products now)
So hopefully I'll get to buy one soon because I really want to get back into drawing with a tablet again.
I've received a few emails asking me for the font I used in my current header, so I want to show you where it came from. Because as you can see from the process pictures, It's all hand drawn =]
I actually didn't even have tracing paper that day, so I just started playing with the only sheet of paper I found. After my first sketch, I went over to my Mothers-in-law (She does awesome calligraphy) and asked for her advice/opinion.
We played with calligraphy pens and had a lot of fun. I was still indecisive over the two sketches because I started with such a different set of concepts for each one.
But I decided to work more on my second draft because I thought it was way too rough at first, so with a few line changes and tracing it on Illustrator, it ended up just like I wanted =]
Since I had two runner ups, I mocked some options for the new design of the blog with the new branding for HowJoyful, so let's check them out!
1

Option

This option was my first pick, but after looking close to everything together, I decided the branding was too busy and opted for something that would be a little more clean.
2

Option

After I scrapped the first idea, I decided to change the main branding, to me, it looked so much more clean, but it still felt like there was something missing, so I worked the blog template design to be a little more customized, and that would be how I came up with option 3!
3

Option

As you can probably tell, because this is how the blog currently looks like. I decided to go for an option that looked a little more custom, with an integrated menu at the top and utilizing the sidebar as much as possible. I am so in love!

What do you think about the re-design?
The before
And of course, I also had to add a picture of what the blog looked like before and also the first branding that I did for the blog. While I really liked it at the beginning, I think that after 2 years, it's time to evolve and create something more custom and in line with my brand =]
So now I have a bunch of rejected sketches, but I feel so sad about just tossing them! Do you have any ideas to use the runner-up?
I hope you all have a wonderful day and stay warm!