Good Morning my Joyful readers! Today I am re-posting a guest post I did for the Craft Snob blog – Sara contacted me while I was in vacations in Chile and ask me to be a part of her Handmade Ornament parade while she was away from blogging because of the birth or her lovely daughter Clementine =]
I am really excited because now that the tutorial has been shared here, I can also share it here with all of you! I love birdcages, but I don't like when birds are in them =[ because they belong free and not secluded in a tiny little space, right? so the birdcages I have are just decorative.
This post contains affiliate links. This means that if you purchase using my links I will receive a commission at no extra cost to you. Read my full disclosure.
Because of my love for birdcages, I thought that it could be really cute to have one as an ornament =] the best part is that once the holidays are over you can use this little birdcage to hold pens in your office or just to decorate your favorite space!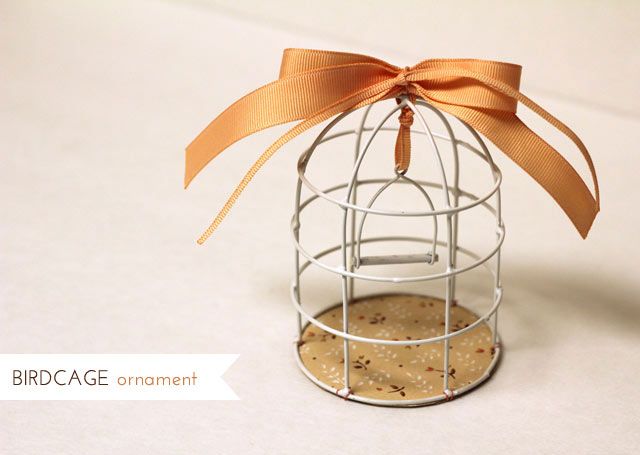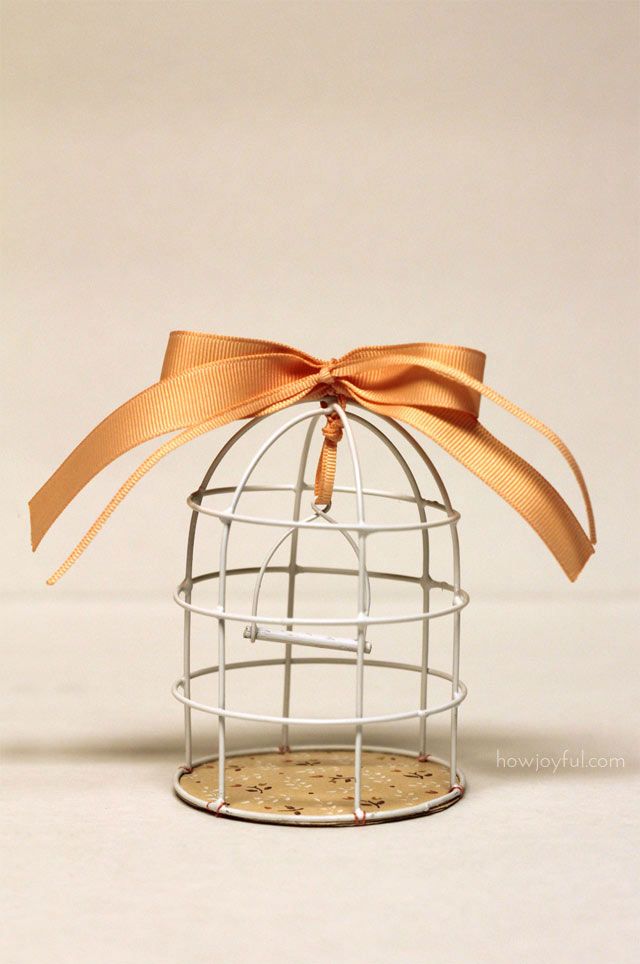 MATERIALS
Galvanized Wire (I used 16 gauge, but you can use a thinner one if you want it smaller)
Pliers
Ruler (a cutting mat is perfect to measure)
A glass cup
1 toothpick
Spray paint or primer (if you want it in color)
A little piece of paper or cardboard for the bottom
Optional ribbon for the top
MAKE IT
I love to work with wire, but there are some things you should know. Always try to use gloves, your hands will then you because they get really nasty, especially when you work with galvanized wire. Usually, when you use flux core solder, you don't need rosin soldering flux, but in my case, I like to place a little bit of paste before soldering on each wire intersection because it makes the soldering a lot easier and the joints cleaner =] I think we all like clean and pretty soldering points. right?
I also wanted to point out that we will be working with rings and wire curves, those are very tricky and even tho we will be measuring, it's really hard to work on having perfect shapes when you work with curves (specially because we will be making our curves with a glass, so there is no measurement there) So don't worry if your pieces are not perfect, you can always fix them later on.
Ok so the first step will be to create the rings for our birdcage, and the size will depend on the size of the cup you decide to use, I've made birdcages using shoot glasses and also using the smallest glasses I have.
You can try and see how big your circle ends up because after you wrap the glass with wire it will loosen up, being bigger than the diameter of your cup. So it can be tricky. My cup had 3 inches of diameter and my loops end up being almost 4 inches.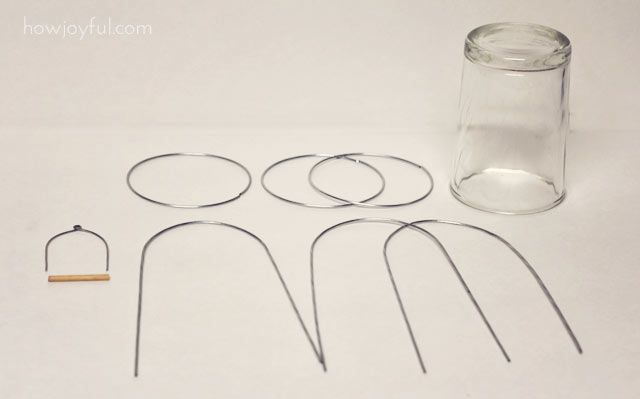 After that we will need to cut the pieces we will be using to assemble our birdcage, you will need:
– 3 circle pieces
– 3 main structure pieces
– 1 toothpick
– Horseshoe shape for the bird hanger
To make the 3 main structure pieces I measured 4 inches in a straight piece, and then bend using the same glass cup until I had te desire shape, I cut the pieces leaving 3 inches on each side after the curve. It's very easy if you just lay the piece in a mat and mark where the curves start and measure from there. After that you will need to solder the circle pieces to close them.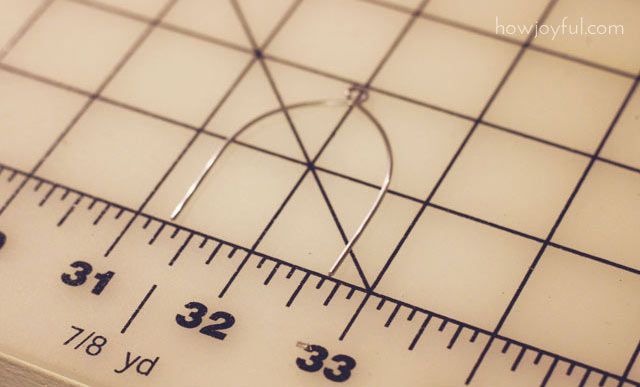 For the bird hanger, you basically have to first make a loop in the top (to attach this piece to the birdcage) and then, bend the bottom so that you wrap the toothpick, just like shown in the pictures above, you can also see how I measure everything in my cutting mat.
To assemble the birdcage you will need to first mark all of your structural pieces where the curve starts, so that can be your first horizontal ring. I started with one ring and one structure piece. If you have trouble holding the pieces to solder, tape them to the glass. That always helps me =]
After that, you will need to visually mark your circle so you can add the other two structures. Here is where you can just mark an approximate because the exact measurements will depend on how big your circle is. And since this is just a little fun project, go with an approximate. Divide the space so the other two fit and your all set. Attaching the other 2 circles is way easier, just measure an inch below the first and solder =]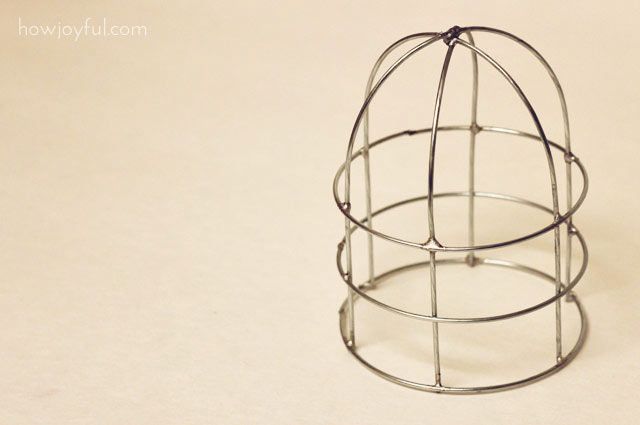 As you can see here I really liked how my birdcage end up, but I thought that the top was too empty, so what I did was mark 3/4″ up the line and I added another ring, but in this case since I didn't know the exact measurement for that one, I took a shot glass and made a smaller one, I left that piece bigger than I needed it so I could cut, once I had the exact piece I wanted.
In this case, I solder all the piece to my little marks leaving the first and last open to be able to cut. I made sure I was not going to cut too small or too big and the solder the end. I know it sounds complicated, but it was the easiest piece to solder because all the structure is already there =]
After you finish, clean your structure with a paper towel to take all the oil from the soldering and spray paint it if you want. Attache the bird hanger to the inside of your birdcage by making a knot in the ribbon. After that add the piece of paper to the bottom (you can glue it, or you can do what I did and stitch the paper to the wire – I just don't like hot glue so much)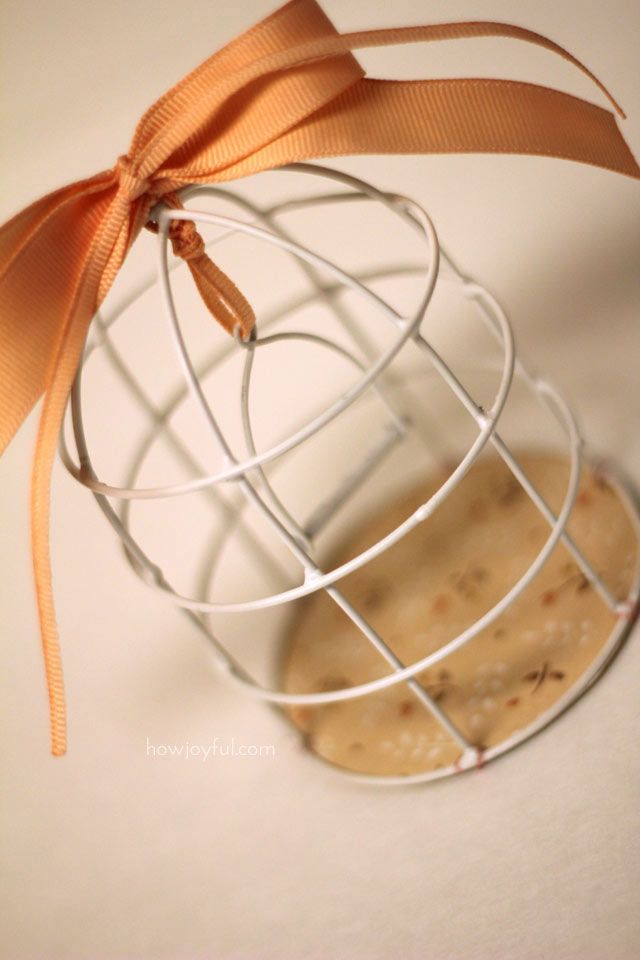 And there you go, a cute and very long-lasting birdcage! I hope you enjoy
XO
* This tutorial and pattern are provided for personal, non-commercial use only.
Check the Site policy at the bottom for further information, Thank you!