Today I want to share one of my favorite pieces of the nursery we're putting together for our baby Peanut =] A very colorful hot air balloon mobile made out of felt.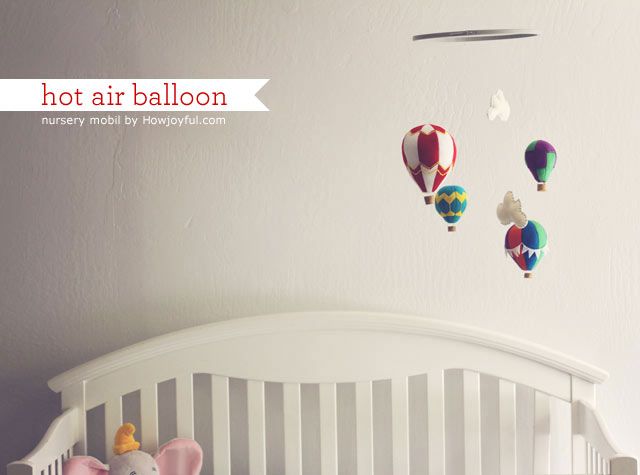 I wanted to make the balloons as real as possible and researched for ideas that were not so complicated to sew because some designs are gorgeous but at a small scale can be a nightmare. Ken used to work with a hot air balloon company, so he had a big share of "the real deal" – in my case I've always admired the colors and designs but I've never been lucky enough to get on one, but I was lucky to see my first balloon festival last year, and that's where I got the inspiration from =]
To me, hot air balloons are just gorgeous! So hopefully baby Peanut will love them too, if not at least he/she will have a lot of time to stare at these guys: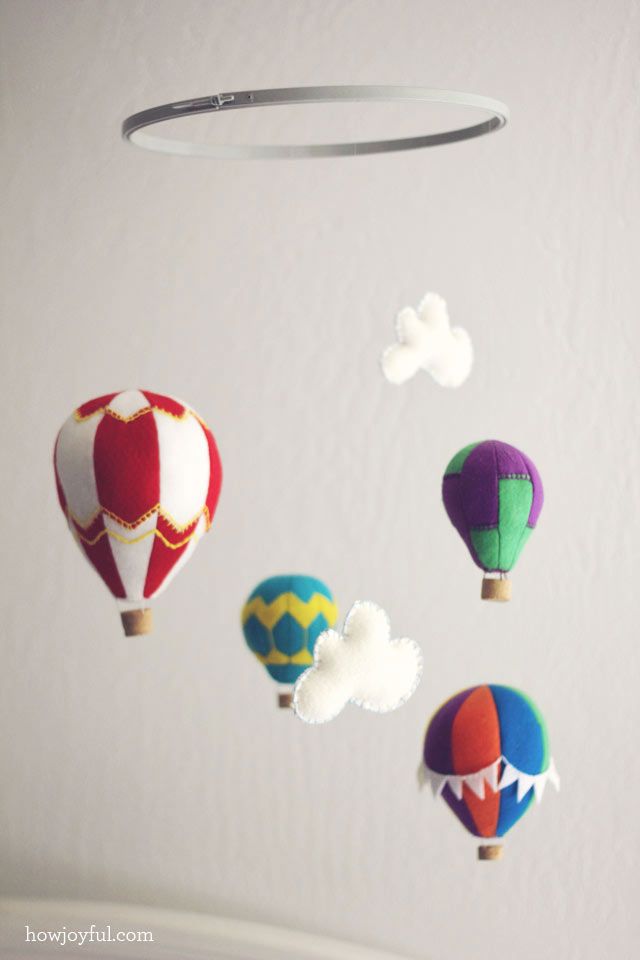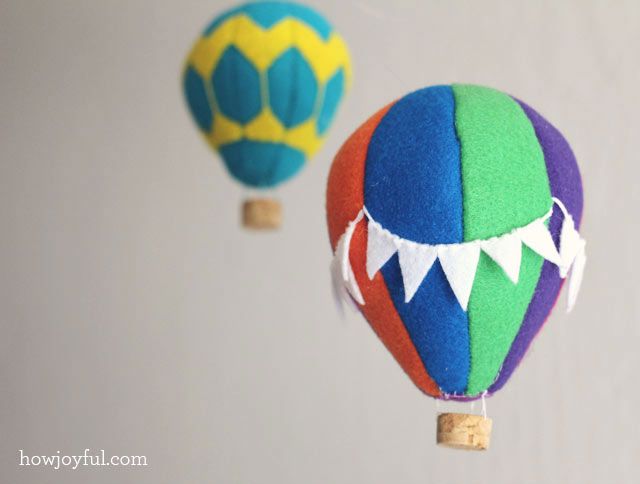 HowJoyful blog is a participant in the Amazon Services LLC Associates Program, an affiliate advertising program designed for sites to earn advertising fees by linking to Amazon products. The prices are the same to you, but I will receive a small commission that supports my blog if you use my links. For more information, see my full disclosure page.
And of course, I had to share a template and basic assembly directions so that everyone that loves hot air balloons can create their own designs =] So here the PDF file with the 3 different sizes I used to create mine and the instructions.
MATERIALS
The pattern is a PDF file, the link goes direclty to Dropbox, but you don't need an account to view it, you will need Abobe Reader or a similar program once the file is downloaded.
PROCESS
The template is very easy since it only has 2 pieces per balloon, so if you want a very simple balloon, like the multicolor one I did with the bounty flags, you just need to cut different colors, sew them together and place the bottom piece to finish up.
Now I am going to show two different ways I experimented with designs for my balloons. First I used applique pieces and here is how I made it:
[Click on images to enlarge]
| | |
| --- | --- |
| | Cut 8 balloon body pieces in the same color, after that I free-cut arrow shapes and triangles directly on felt, but if you don't feel comfortable draw your design on the template and then cut, I played with the positioning until I was happy, then turn the pieces with the right side facing up and pin carefully. |
| | I decided I wanted to make this balloon entirely by hand, so I started sewing each completed piece with a normal needle and treat in matching color. I sewed everything on the wrong side so the sewing stitches will be hidden. |
| | I left one of the sides half open so that turning inside out would be easier, then I finish sewing the side and stuff it with Polyester fiberfill. |
| | After that, I carefully sewed the bottom piece, if it's too hard for you to keep it in place pin it first. |
The second way was cutting 4 pieces of each color (red and white in my case) I decided to make the biggest one like this because in my head it was going be easier to sew, and I was right =] so here it is:
First I decided how I wanted to cut my pieces and draw on the template to the cut it, marked all of my pieces, but right before cutting I decided to only do 2 cuts per piece and eliminate the last mark you see in the picture.
Once all my pieces were cut, I mixed and matches the colors, place a super small pieces of masking tape on the back so that they will stay together edge to edge and sew them with yellow floss.

(UPDATE: if you are wondering about stitches for your ballon, I recommend you to look at Sarah's hand embroidery tutorials, she has tons of different stitches)

After I had my 8 pieces put together I sewed them in the machine wrong side facing up, so that the stitches would be in the inside.
Again I left the last one half open so that the turning inside out would be easier. Then I sewed it by hand and stuffed it.
Lastly I sewed the bottom piece, and my hot air balloon was done!!
After they are done, I cut pieces of corks, I just cut the average wine cork in 3 for all of the balloons, except the big one, for that one I used a champagne cork that I cut in half. After that, I sanded the outside to erase the letters that most of them had. I used a normal treat and needle to attach the cork to the balloons in 3 different points.
I used the invisible thread to attach the top of the balloons to my painted embroidery hoop, I randomly positioned the balloons and to finish them up I added two clouds that I free-cut and sewed with a light blue floss. So there you go! now you can create your own hot air balloon mobile too =]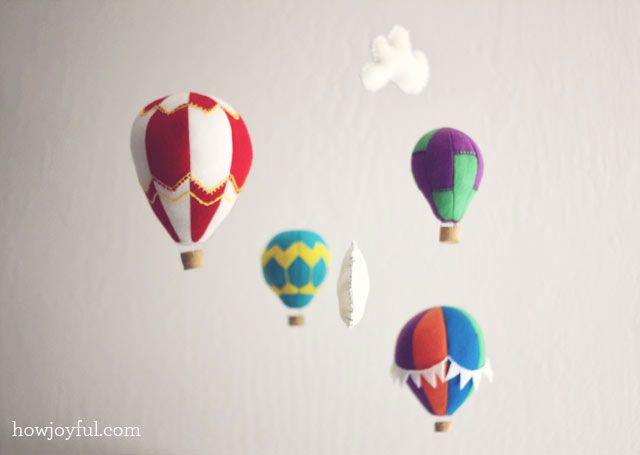 I hope you guys enjoy it and let me know if you make it, I'd love to see the designs you are going to come up with!
Have a lovely day!
XOXO
[ This tutorial is provided for personal use only. If you wish to sell items made with this tutorial please purchase a limited production license. Check out our site policy for further information, Thank you! ]

https://s3-us-west-1.amazonaws.com/howjoyful/wp-content/uploads/2012/07/27072559/hot-air-balloon-mobile-2.jpg
960
640
Joy
https://www.howjoyful.com/wp-content/uploads/howjoyful-logo-1.png
Joy
2012-07-25 11:31:13
2018-05-10 18:12:34
How to make a hot air balloon mobile with felt - tutorial and pattern - Nursery