If you are looking for craft room ideas for your creative space or just some eye candy, you are in the right place! This post will for sure make you drool! Check out some of the most inspiring and beautiful craft room spaces and home offices!
Hello guys! This past weekend was so crazy! The storm that hit our mountain town was pretty big, and we spent a few days without power in our house. So it feels nice to come back and share one of my favorite things to look at, craft room inspiration! So let's get ready to check out some of the most inspiring and beautiful craft room spaces and home offices around the web!
Oh, and if you want to see even more ideas for craft rooms, I'm listing most of the post I've written about craft rooms, craft tables, and also how my craft room looks like =]
More craft room post
Now lets get inspired and drool over all of these Craft room/Office images!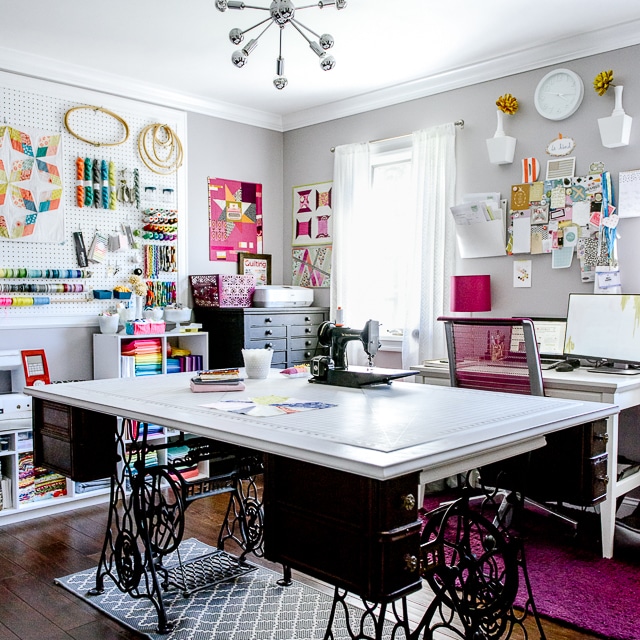 [source]
[source]

Don't you just love the closet desk idea?
Even though the pink version would not work with my long legs it's just adorable
[source]
[source]
[source]
I also love the contrast and pops of color
And I could not stop myself from sharing my latest obsession and next Project,
an awesome Studio table =] here my inspiration
[source]
[source]
[source]
And last but not least, wall calendar and notes ideas
[source]
[source]
I so want to try the magnet calendar idea =]
Even though is not a craft room but an office I can totally see myself crafting there, and even though I'm not a fan of the color yellow I could not help but drool all over the keyboard and rethink my yellow preferences after I saw this amazing office from Three Man and a Lady
[ Image source ]
And even though is not in a craft room either – How cool would it be to have a whole wall to write thing?
I love simple and clean and this desk is just LOVELY! from Fabulous K
And well I'm a sucker for organizing all my craft stuff, I could really use some of this:
[ Image Source ]
And even though I like things more hidden I do think is a pretty cute room, from Bliss Tree
[ Image Source ]
Sooo Pretty! ♥ And if you liked all fo this rooms stay tuned because I found some more goodness to share with all of you!
And if you are looking for more craft office eye candy, check out my Pinterest board craft and Office Inspiration.
PINNING ETIQUETTE
I just wanted to share a little bit of pinning etiquette along with this post too, because I see more and more people that start to pin from the main (front page) of a blog or from Google searches.
And this makes finding the correct source of the images so hard!
So, always remember to pin from inside a blog post, why? because when you want to come back to see the post where you took the image from (just imagine that perfect recipe you just pinned) it could be archived far from where you originally see it, remember that blogs have a new post every week, and searching for a post with just an image is a pain!!
So keep that in mind and always source where you found the image, you know it's like with blogging, just the nice thing to do =]
Do you love Pinterest too? Oh wait, you still don't have an account! Well then you can comment and leave your email and I will send you an invitation =] I know you will love it as much as I do <3