Looking for fun alphabet letters worksheets to practice calligraphy and lettering? Here you will find uppercase letter worksheets and different lowercase alphabet lettering styles.
If you already read my post about Calligraphy alphabet styles, you already know the details about letter families. So, I will assume that you already read that one as well as the History of Calligraphy, that one covers the evolution of alphabets, as well as my Cursive into guide.
Those post that I mentioned already cover all the basics and history as well as touch on the points to achieve your very own letter style, so I will not focus on any of those points today.
I will share and focus on my favorite supplies to practice, how to take advantage of the worksheets, as well as examples for 30 ways to write each letter of the alphabet in both uppercase and lowercase.
And remember to download the FREE workbook at the bottom of the post (or inside the Letter Vault if you are already subscribed to the HowJoyful Newsletter.
Difference between Calligraphy & Lettering
I think that is so important to begin with the most basic concept when looking for worksheets because unlike what most beginners think, Calligraphy and Lettering are very different things.
As a very short explanation, lettering is about drawing, Calligraphy is about writing. No matter the tools used, it is about the process of creating letters.
When we are doing lettering, we correct, erase, re-trace and mold the letters to fit the shapes …
When we do calligraphy ….
If you want to check this in more detail, I wrote a full post about the difference between calligraphy, lettering and typography here.
How to use the alphabet worksheets
To make the most out of the worksheets I am sharing with you, in this post, on the website and on the Letter Vault, I have 3 recommendations so you can save money when you practice, since printing sheets can get expensive, and some paper pads can also get expensive when you try to practice as much as possible.
So, my 3 different recommendations for practice are:
1 – Print the worksheets directly into my recommended HP paper and work with your brush pens right on top of them.
2 – Print your worksheets in any print paper, and use tracing paper on top of your worksheets to practice
3 – Print your worksheets on any kind of paper, and using a light pad, place a piece of my favorite HP paper on top so you can see the worksheet or guidelines below for practice.
Paper Recommendations
The thing about practicing with brush pens, is that if you use regular copy paper, the tips of your brush pens will start to fray. To avoid this, you need to have smooth paper, so below I list my favorite options for affordable AND super smooth options.
This is definitely the more economical alternative for paper, I use this exact paper to print all my drill grids. It's a great way to save money while you practice so that you can use your special paper for projects, and your brush pens will not get damaged like they do with regular copy paper.
This is my favorite paper for inking and also for brush calligraphy since it's super smooth and it does not absorb all the ink as some do, but because of this you need to be careful and wait for the ink to dry, or you will have a mess in your hands and your paper! It has 50 sheets and measures 9×12 inches.
Extras to help your practice
After using the Cricut BrightPad for a few months I am a converted believer. It's so much better than my older light box (linked below) little things like the fact that you have to push down in order to change the brightness prevent you from hitting it by accident like I always do with my older light-box.
If you don't want to use tracing paper a light pad is a perfect solution ( and also a great one if you venture into watercolor) This is the one I have now, I tried some of the more expensive ones and this one beats most of them, it's worth its weight in gold (actually way more than it's weight because it's super light!)
Brush pen recommendations
How many letters are there in the alphabet?
The English alphabet has a total of 26 letters.
But historically, it used to have 27, the "Et" or Ampersand (and) used to be considered a letter of the alphabet, even though now it's just another symbol on the English language. As @jonhudson.main over at Medium share:
Et is the Latin word for and. Its usage can be traced back to the first century! This is where the ampersand was born. The "&" symbol was created as a ligature (combination of two letters) of the letters "e" and "t" or "et". It was considered a letter of the alphabet all the way up until the early 17th century.

– @jonhudson.main from Medium
A great example of use that I found via Artemy Lebedev shows the regular 26 letters of the alphabet along with the ampersand at the very end.
Ampersand came to be a staple element in European writing to the extent that it wound up as the last letter of the English alphabet in all primers by the early 19th century (and started to be removed from them some hundred years later).

– Artemy Lebedev
And while the ampersand is no longer considered a letter, it is still very much loved by pretty much every letter enthusiast I've come across. The evolution of it's shape it's nice to see and also explore.
UPPERCASE LETTER ALPHABET
Uppercase letters, also called Capitals letters are normally not the letters we start with when we are beginners because the lowercase letter are more simple and require fewer strokes (for the most part) to complete.
But I wanted to start with the uppercase alphabet because is usually the one that most researched kinds beginner need the more help with figuring out different ways to write.
1

– Letter A uppercase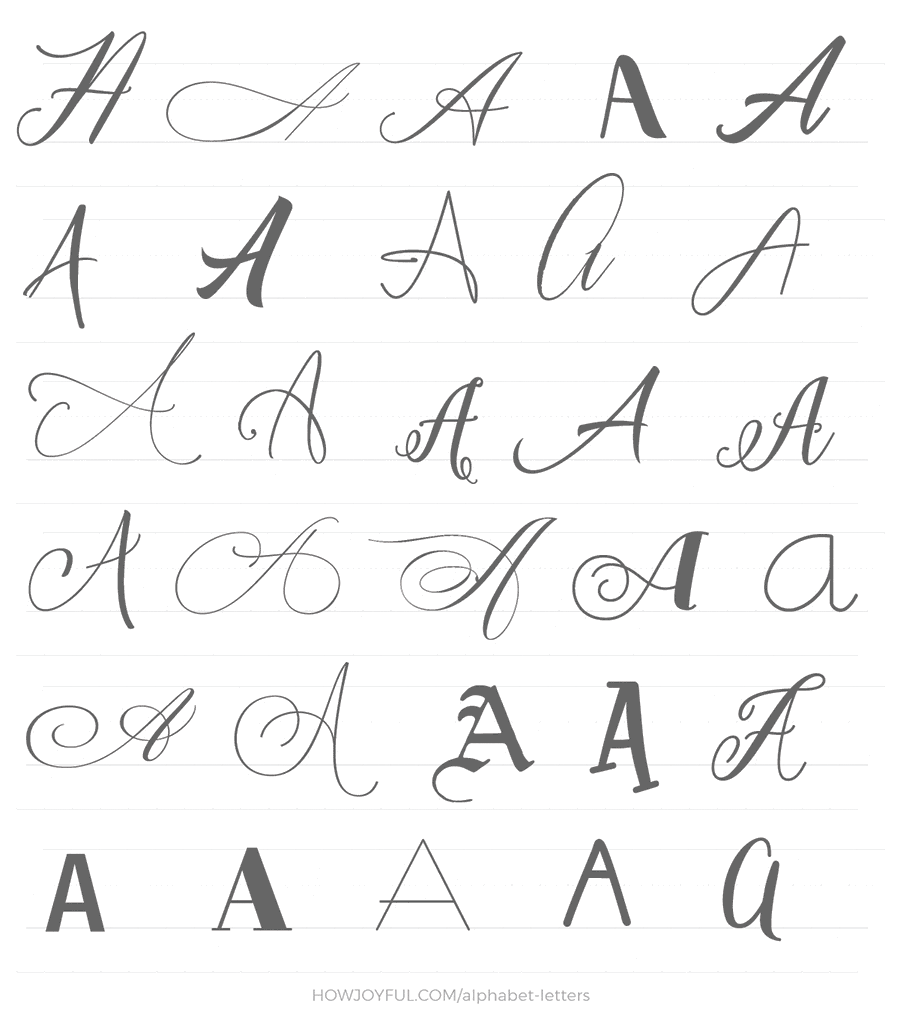 2

– Letter B uppercase
3

– Letter C uppercase
4

– Letter D uppercase
5

– Letter E uppercase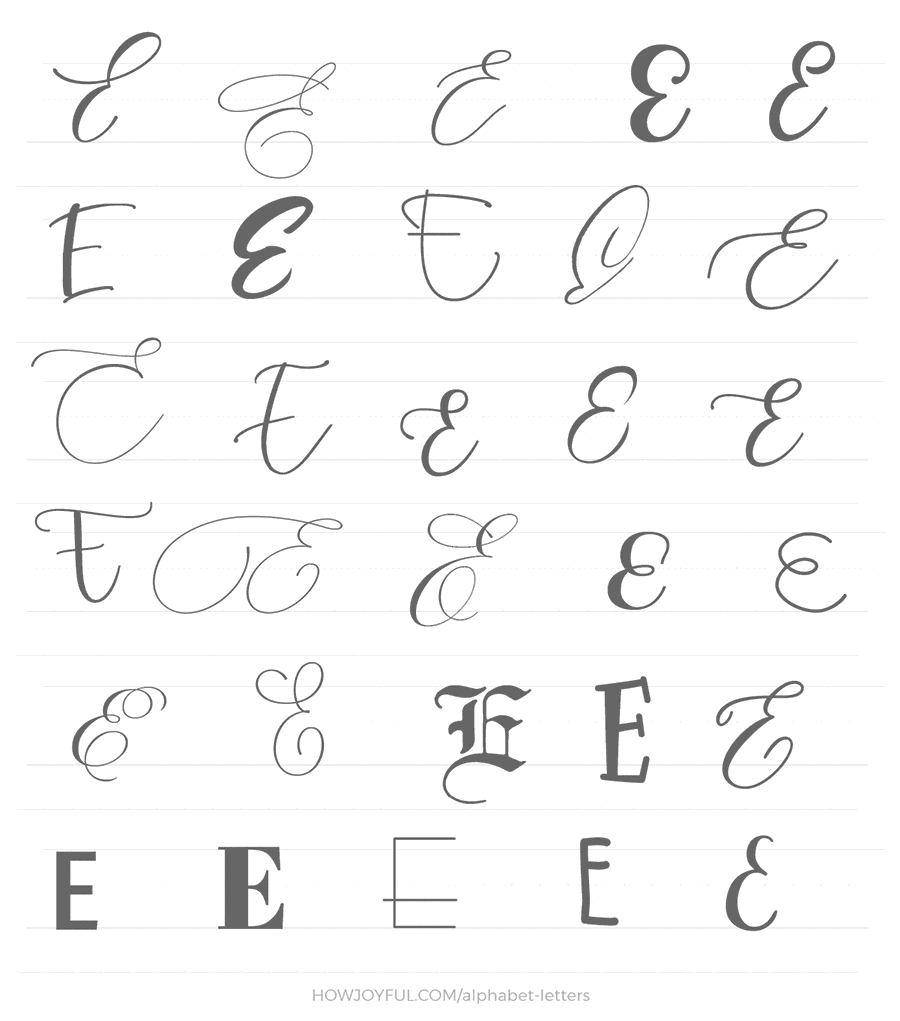 6

– Letter F uppercase
7

– Letter G uppercase
8

– Letter H uppercase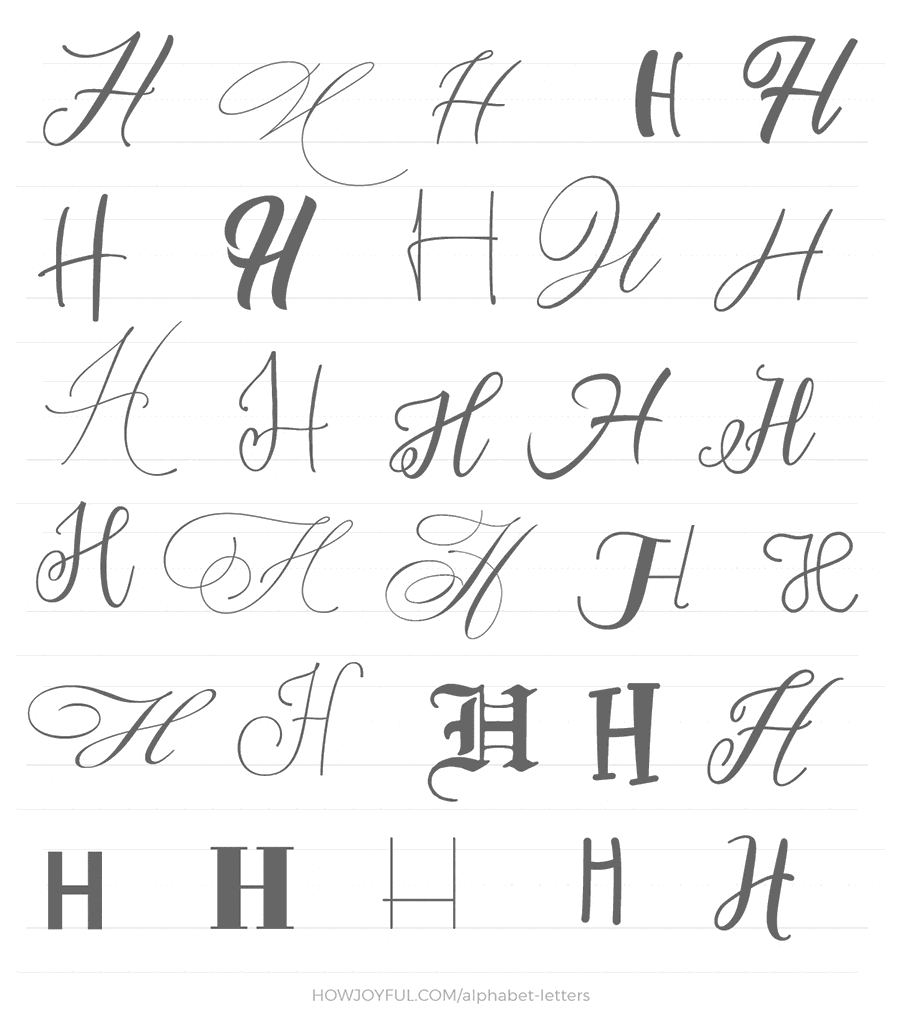 9

– Letter I uppercase
10

– Letter J uppercase
11

– Letter K uppercase
12

– Letter L uppercase
13

– Letter M uppercase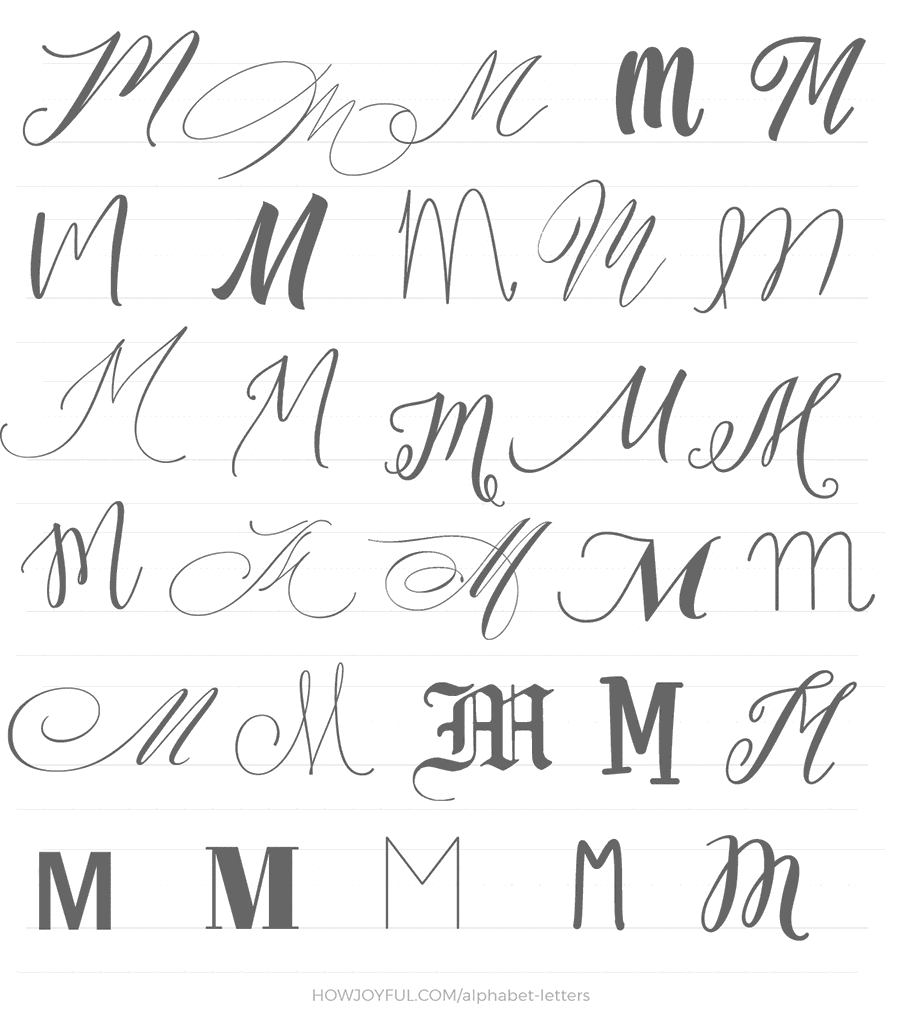 14

– Letter N uppercase
15

– Letter O uppercase
16

– Letter P uppercase
17

– Letter Q uppercase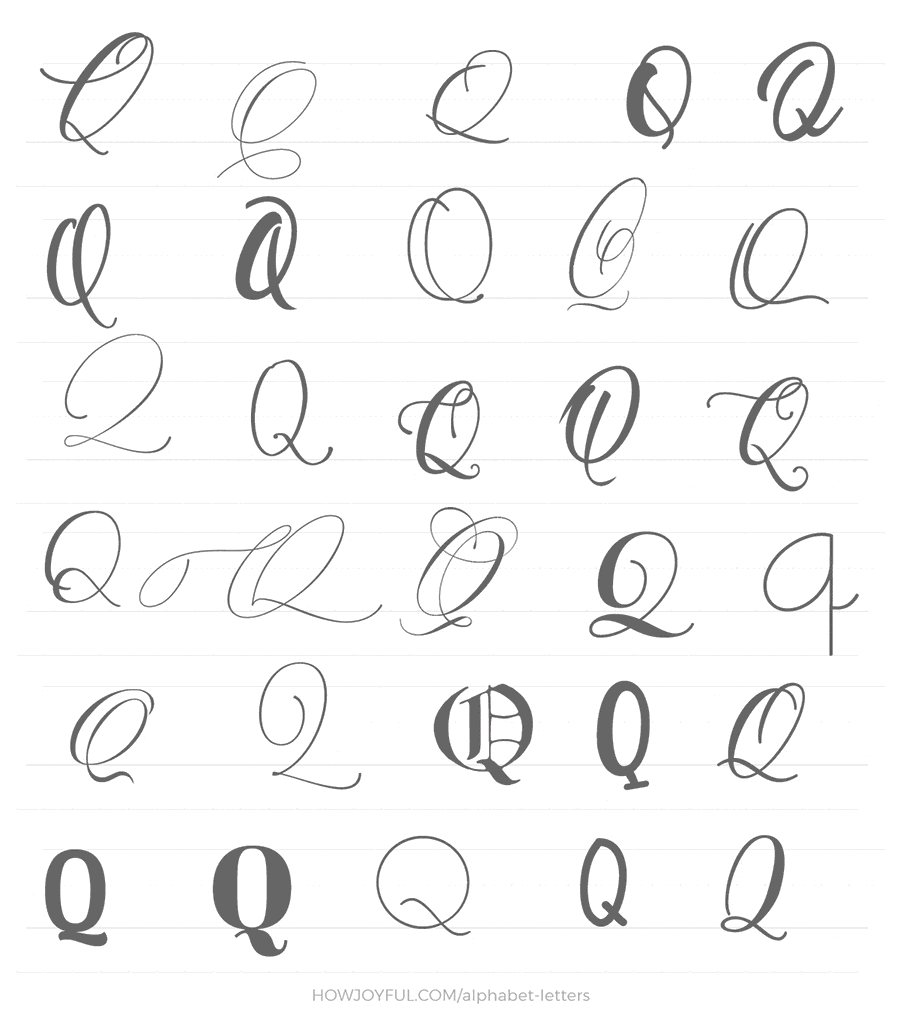 18

– Letter R uppercase
19

– Letter S uppercase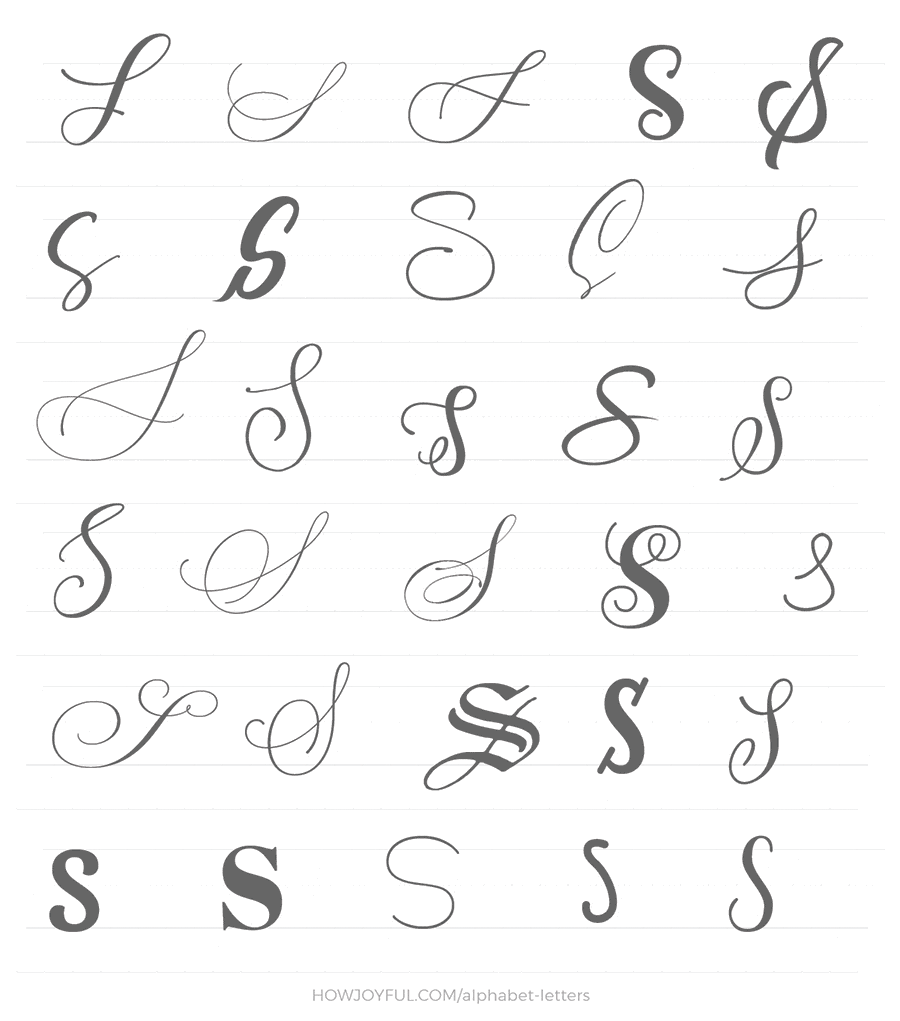 20

– Letter T uppercase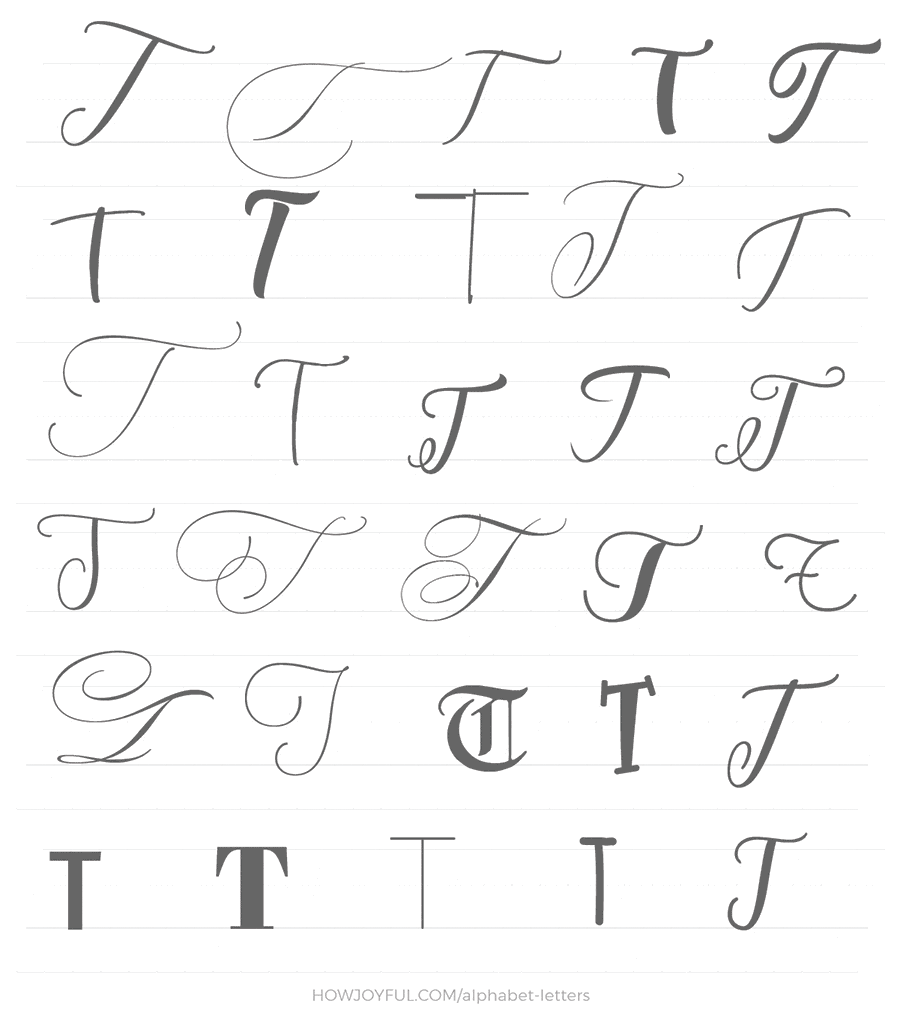 21

– Letter U uppercase
22

– Letter V uppercase
23

– Letter W uppercase
24

– Letter X uppercase
25

– Letter Y uppercase
26

– Letter Z uppercase
LOWERCASE LETTER ALPHABET
As I mentioned, lowercase letters are usually the first one we start when we are learning to do brush calligraphy and lettering. They usually require fewer strokes, and they are easier to understand once we have mastered the basic strokes.
So if you are using the FREE worksheet that I am giving away at the bottom of the post, make sure that you start with the lowercase letters first =]
1

– Letter a lowercase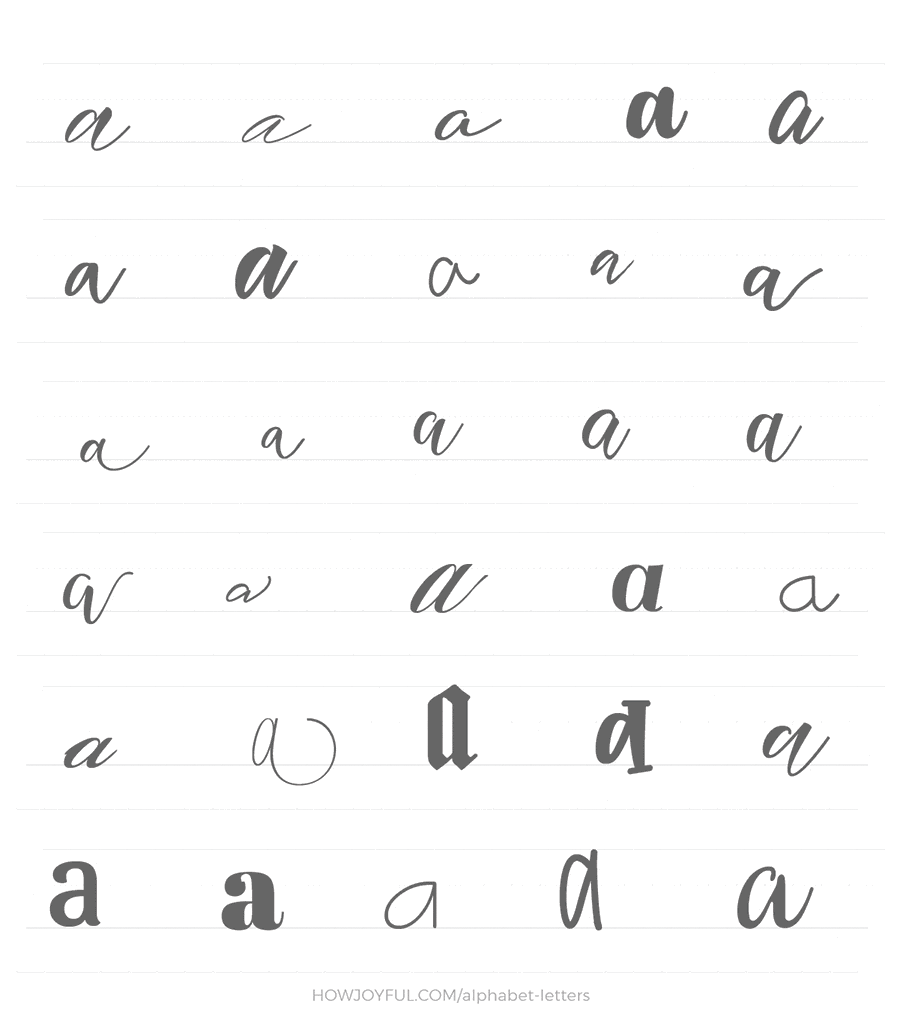 2

– Letter b lowercase
3

– Letter c lowercase
4

– Letter d lowercase
5

– Letter e lowercase
6

– Letter f lowercase
7

– Letter g lowercase
8

– Letter h lowercase
9

– Letter i lowercase
10

– Letter j lowercase
11

– Letter k lowercase
12

– Letter l lowercase
13

– Letter m lowercase
14

– Letter n lowercase
15

– Letter o lowercase
16

– Letter p lowercase
17

– Letter q lowercase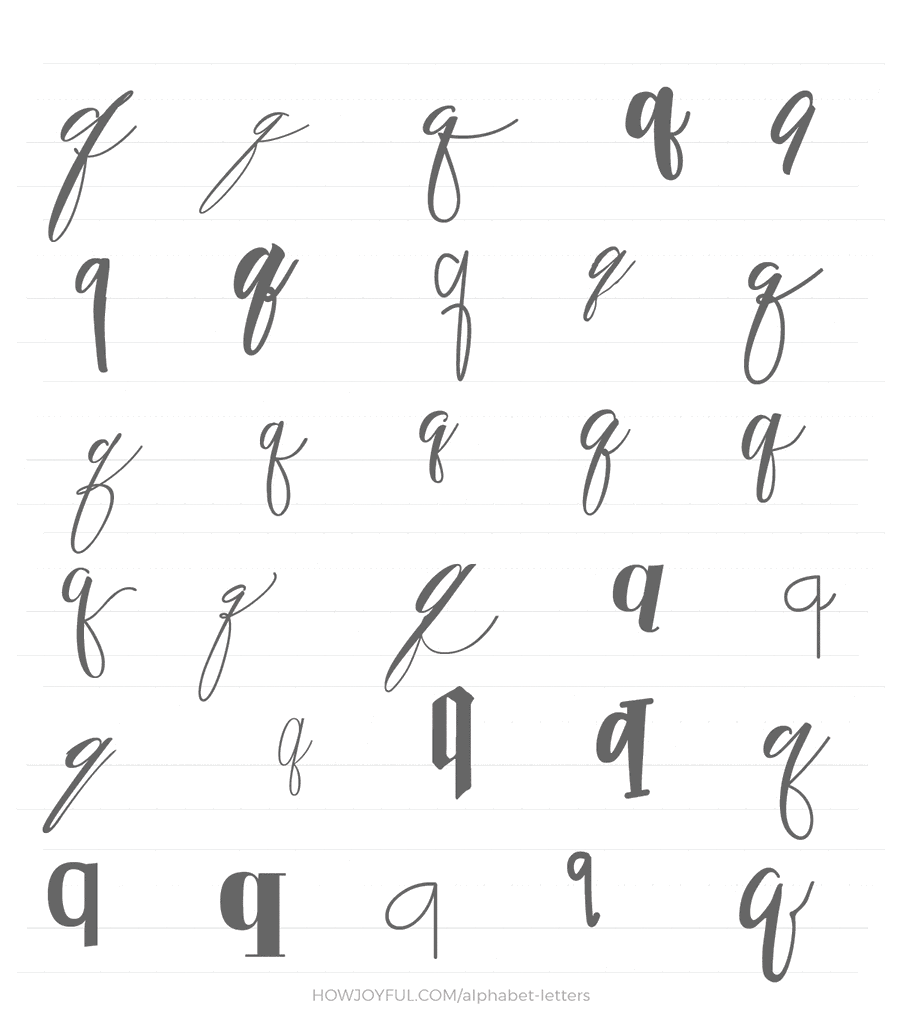 18

– Letter r lowercase
19

– Letter s lowercase
20

– Letter t lowercase
21

– Letter u lowercase
22

– Letter v lowercase
23

– Letter w lowercase
24

– Letter x lowercase
25

– Letter y lowercase
26

– Letter z lowercase
DOWNLOAD THE WORKSHEETS
To help your practice, I have compiled a workbook that contains all the letters that we revised today, and if you subscribe to the HowJoyful Newsletter, you will also have access to all the other extra worksheets and workbooks that are available for FREE inside the Letter Vault! All you have to do is fill out the box below!
If you are already subscribed, there's no need to fill out the box again, all you have to do is head over to the Letter Vault and download the Letter styles workbook.
Font Credits
The examples that I am sharing here (and the accompanied worksheets) were created using the fonts below, you can reference them by the name in case you are looking for a particular one, and I have also linked to them below in case you want to download or purchase.
I hope you liked this post and if you are looking for more Calligraphy post check out this selection:
Have a wonderful day and as always, feel free to message me if you have suggestions for additional alphabets or topics that you want me to cover on the blog!
And remember! Practice makes better!