Drawing super simple and easy doodles is the perfect way to get you started with bullet journaling, or just expand your drawing skills so you can add more illustrations to your lettering and calligraphy work! So I am sharing more than 100+ easy things to draw to get you started in the doodle world!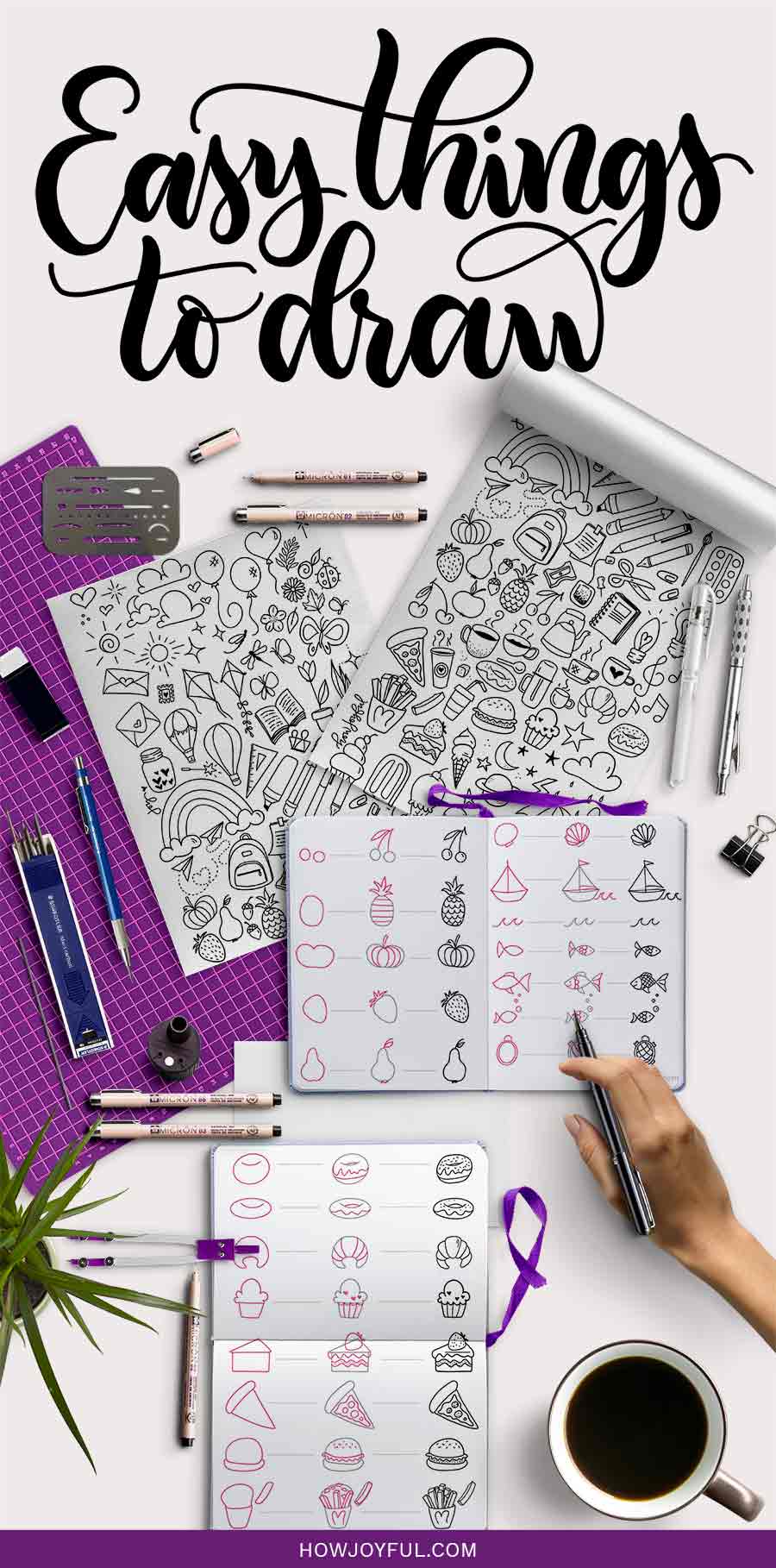 There is no mystery that I am obsessed with drawing and doodling, I was one of those kids that managed to doodle little things around my notes more than writing notes since my first years of school all the way to Design School, but I never considered myself an artist, until I started doing lettering and Calligraphy.
At first, I loved adding little doodles to my SVG files and as compliments to my lettering work. But now that I started doing Bullet Journaling, I am obsessed with adding little doodles to my pages.
The thing is that many people think that its a waste of time to add many details to bullet journals, but I think that if making doodles makes you happy, that is more than enough of a reason to keep practicing and draw new doodles on each page.
A lot of people think that if doodles are very simple there's no way that what they are doing is art, but I'm here to tell you that it totally is! Even if you think you are not "artistic" – anyone can learn to be an Artist. And this super simple and extremely adorable doodles can be the perfect way to get you started!
Check out 100+ easy things to draw for your bullet journal, to add to your lettering work or just for fun, from simple doodles to cute cups, coffee, fruit, snacks, food, school supplies and so much more! #easydoodle #easythingtodraw #drawingeasy #doodle #doodleeasy #doodlecute #cutethingstodraw
All the things we will learn to draw
I figured that I would try to cover as many categories of drawing as possible in this post, but I do have extensive guides on how to draw other things like leaves, and an upcoming post for flowers and roses.
So in this post, I will cover many of the other cute things that you can draw in your journal, notebook, or lettering piece. Want to see them all together? Here they are:

Drawing supplies
First, we do need to cover what you will need to start sketching, because even though you can draw these doodles with whatever you have around, if you are ready to test something else, here is the list of all the things I use for drawing, sketching and inking.
If you are looking for sketching paper, this HP paper rem that I recommend to start using with Brush Calligraphy is also wonderful for doodles, you can also use tracing paper to create "layers" and correct your drawings. I also recommend this journal in case you don't have one, and this notebook in case you want to add watercolor details, or you want to make sure there's no bleeding on your pages since you can color and sketch on both sides of the pages, it's awesome, get it here!.
If you want to work on your iPad instead, here you can see a list of my current digital drawing setup and recommendations. Also, here you can read all about the Procreate brushes I use and recommend.
Sketching tools
Inking tools
Easy cute things to draw

Easy school things to draw

Cute nature drawings

Fruit doodles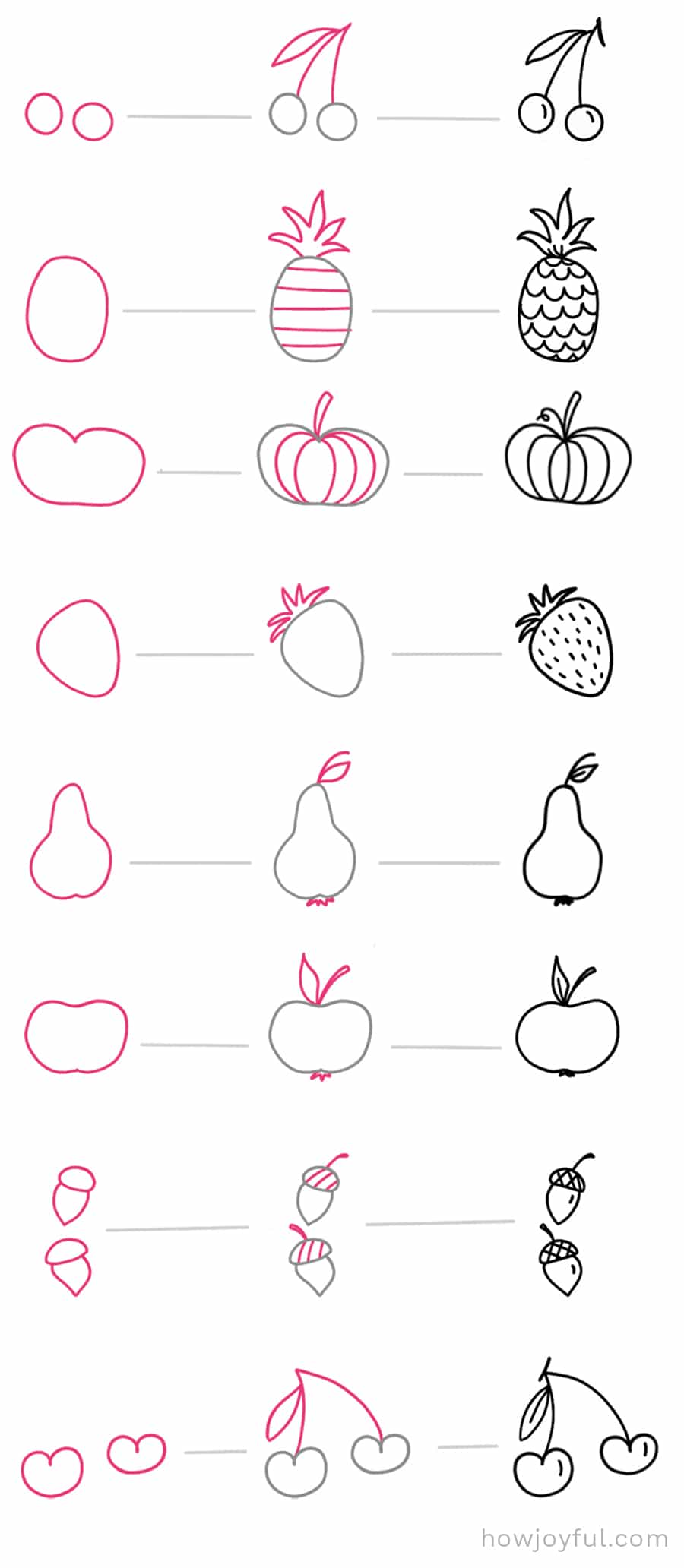 Food and snack doodles

Coffee and tea simple things to draw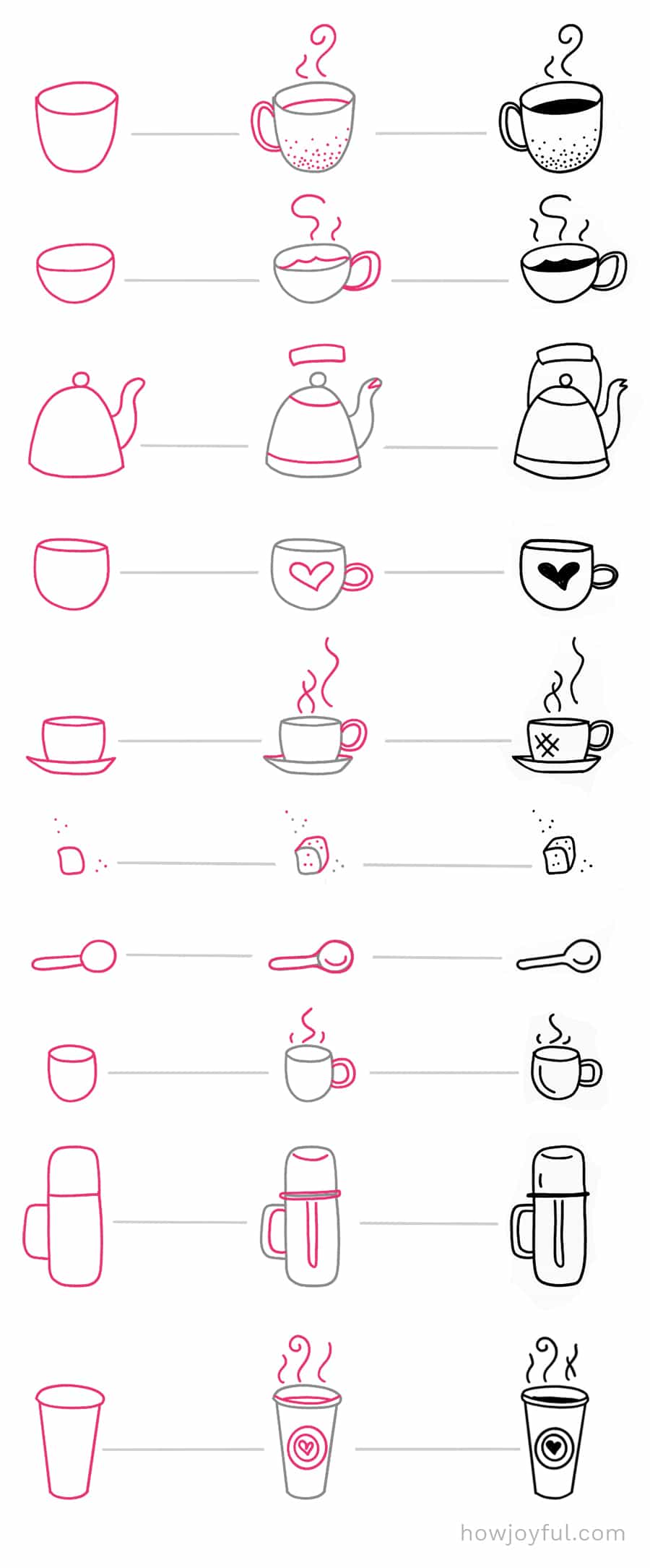 Space things to draw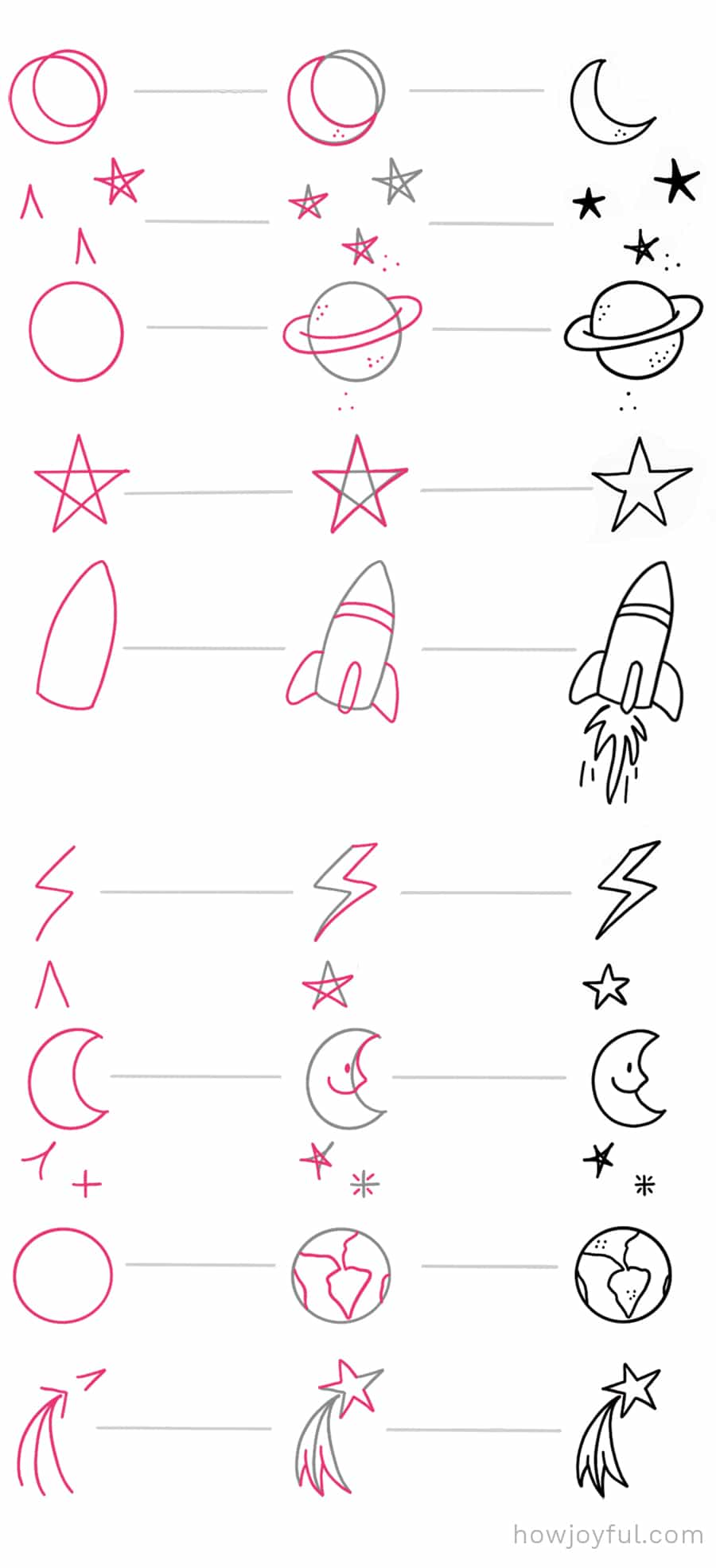 Simple ocean things to draw
Easy tech doodles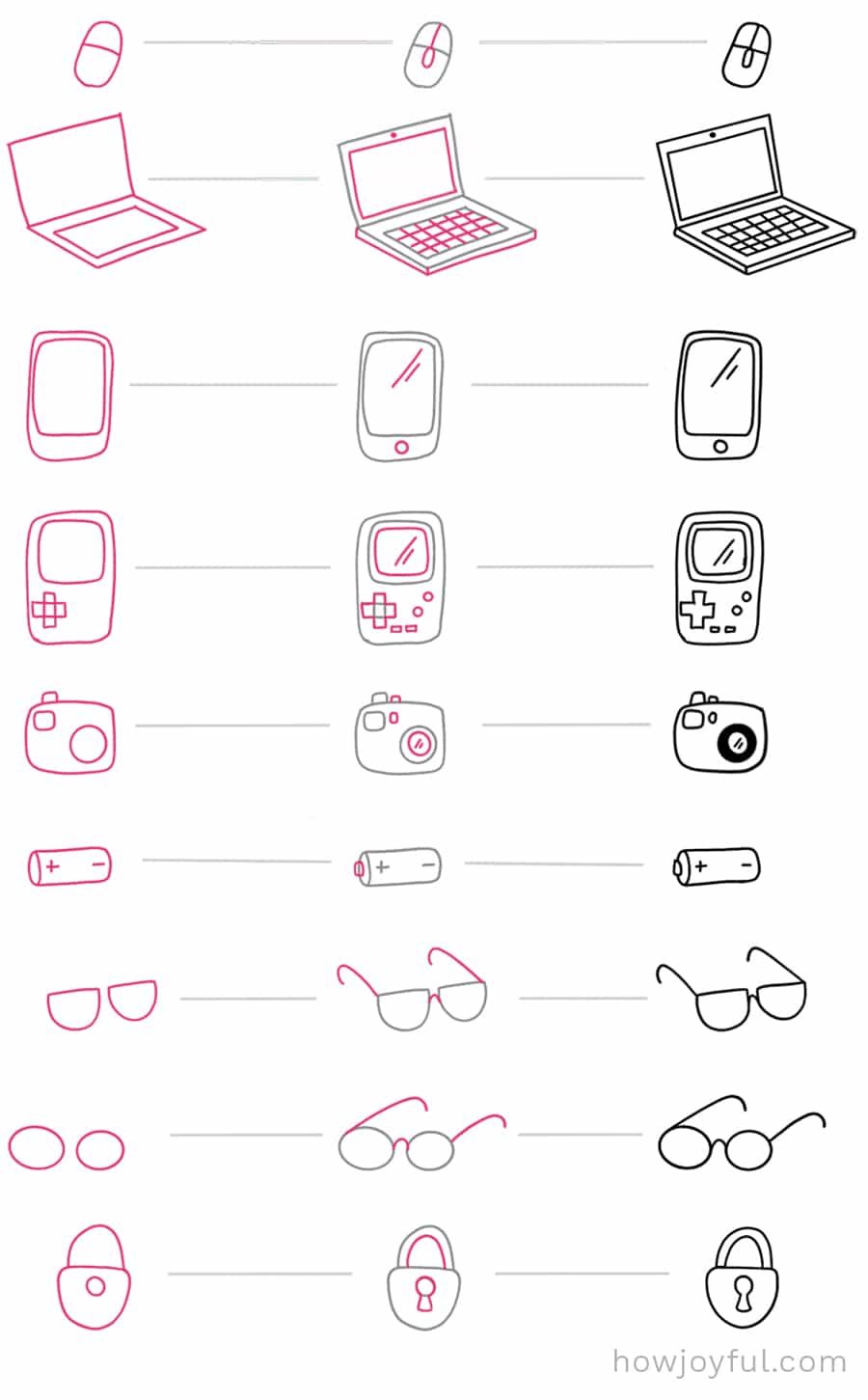 Random things to draw
Adding doodles to your lettering
One of the things I enjoy the most when I create pieces for my Shop and for the Studio, is mixing lettering and calligraphy with super simple doodles.
Some of these pages are future prints still in ink form, so in order to finish them, I still have to paint and digitalize them before I can call them done, so there is still a lot of work that needs to be done in most of them.
More post for drawing and your journal
Lately, I've really enjoyed working on custom hand-lettered prints, this has to be one of my favorite ways to spend an afternoon while I lay in the carpet with the boys while they play with their toys, Cooper can crawl now and chases my sketchbook around so it's not as easy as it used to be to draw close to him, but when he's entertained with something else I can still get away with sketching on the carpet =]
Getting used to working while taking care of Conner, Collin and Cooper have been very challenging, but I'm slowly getting better at managing everything. I d think it will take a long time for me to be as productive as I used to be, but I am embracing this slower season, I always think that they will only be this little once.
So I am very thankful that I am able to stay home, and that I get to be a part of their every day =] I also wanted to say thank you!
Thank you for visiting this little blog and allowing me to create while I enjoy my family, this would not be possible without you. Every page view helps my business and I am so extremely thankful!
Again, Thank you!
Have a lovely day.