Writing in a journal is so far away from tapping tiny letters into the Notebook app on your smart device there are no words to describe the difference, but I'll try anyway.
Organic versus inorganic. Interactive versus inactive. Skill, thought, hopes, and dreams versus a random selection of binary code stored in something that can smash on the bathroom floor at any time.
If that's not enough encouragement for you to dig out your old (unused) notebooks and give them a second chance, then I don't know what is! = )
Keep in mind the mindfulness of journaling
There are more than a few online articles about how you can put that empty notebook crammed at the back of your closet/desk drawer/bureau to good use. And there are even more articles about why you should not feel too guilty about your empty or half-empty journal ending up there in the first place.
But we're not here to create a boring list of ideas of what to put into your notebook. We want to find out why journaling and writing are two of the best things you can do for your mental health, mindfulness, and well-being.
Creative people are very drawn to journal keeping and diarizing their lives. It's way to make sense of the world around them. Actor, Matthew McConaughey, for example, has been keeping journals since he was 14 years old and says he now has a treasure chest full of the them.
He used the contents to help him write his book, "Greenlights." In a recent interview, he was asked whether he wrote journals because he knew he owed an obligation to himself somewhere in the future to look back over his notebooks and set himself the task of reconsidering and contemplating his life. That's a beautiful way of looking at journaling.
The aesthetics of writing in a notebook
When you look at the electronic device on which you would usually record the things you need to get done or want to remember, you have to admit that the aesthetics aren't great.
All it takes to bookmark the website page you promised yourself you would read when you had time is to tap the "Forward and Save" icons. Compare that to carefully reading the article with a notebook on hand and then writing down the parts you find interesting. While you write, you remember the information better, imprint a small part of your personality into it, and you can tag it with a proper bookmark too!
So, it's not so much a case of ideas for a journal, but more like journals giving us the ideas! Here are some of the things you can do with that empty notebook of yours I bet you've never thought of doing before.
One of the best things to write about – you!
Not even the most expensive empty journal will cost you as much as a regular appointment with the psychologist. It's a sad fact of life in western civilizations that, as we've moved further away from the standard multi-family village module, we have become more prone to loneliness and stress.
That's why writing a conversation with yourself in a journal every day is a great way to assess your state of mind, check your happiness levels, and – best of all – have a good rant without anyone being put out by it.
It's as good as a visit to the analyst in many ways, especially if one of the things you lack is a personal evaluation channel.
Use that empty notebook for idea doodling or preliminary research
What is idea doodling? It's when you are stuck for ideas or have too many of them and need to tame the creativity storm inside your mind. The best way of doing this is by focusing all that mental energy on the blank page of a notebook.
For many creatives out there, sleep is impossible if they are stuck on a project or percolating an idea. What happens is, the minute their head hits the pillow the brain kicks into high gear! That's when you know it's time for some idea doodling.
Instead of reaching for the recording device on the end table and mumbling everything into the speaker, try switching on the light and writing all of those noisy ideas onto a page. This enables the lateral thought process to grasp concepts better. You don't need to stick to words; diagrams, cartoons, stick figures, and infographics work just as well.
Doing this could even lead to you dreaming about all the theories and plans you came up with during the night. Then you can use your journal as a dream diary in the morning first thing when you wake up as a way to consolidate the imagining process.
Additionally, maybe what you need is to just draw things around you, or just try some simple doodle ideas as a warm-up for other drawing ideas.
Let's kick our empty notebook ideas into high gear with a brief rundown of other ways you can put your journaling yearnings to good use.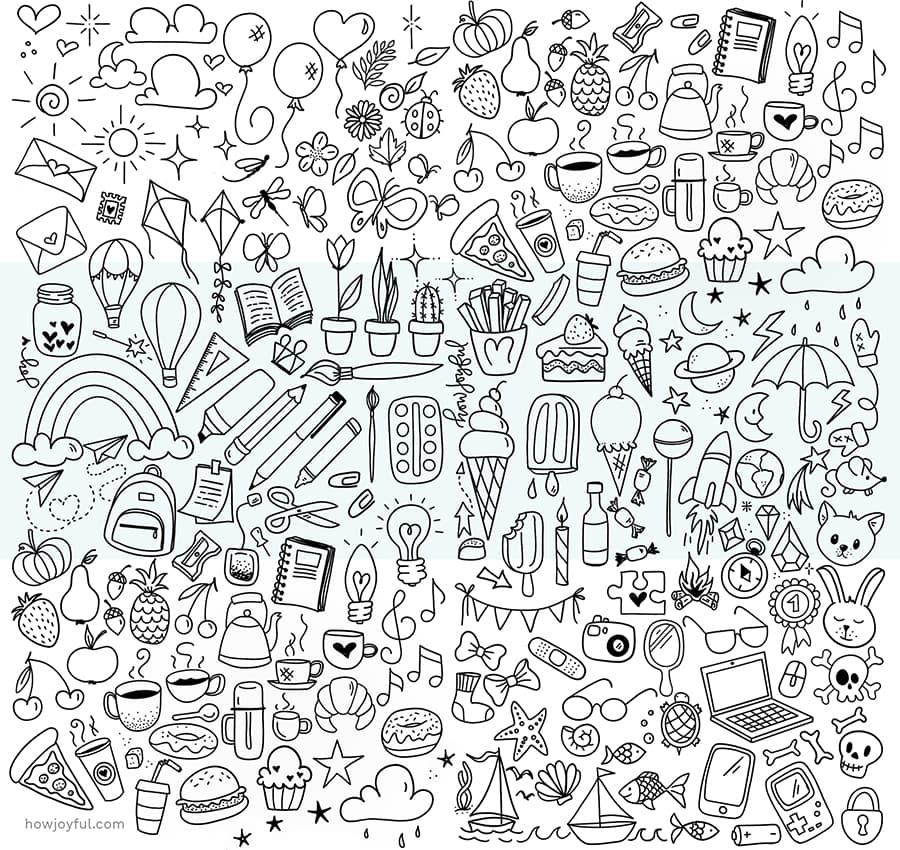 Collages – technically, it's turning your notebook into a scrapbook
Not just for preschoolers. Cutting out and pasting is allowed for journals too. A friend of mine has an old handmade recipe book she inherited from her mother. Not only is it a beautiful little piece of nostalgia and fond memories, but it's also the sweetest reminder of the meals her mother used to cook, written out in her mom's own handwriting.
If you think this is one of the best ways to use your empty notebook, here are some tips on what to write in a notebook that you've earmarked to turn into a family cookbook.
Cut out and paste in recipes from magazines or use photocopies/photo printouts
Transcribe recipes from one person or family member to another.
You can make the recipe, transcribe the successful ones into the notebook with your own helpful tips included; even take a photograph of the results and paste it into
your notebook. Voilà, your own homemade cookbook.
Write your memoirs
No, it is not self-indulgent or a waste of time to write your memoirs. One of the best empty notebook ideas for anyone is to chronicle their lives. You can write a daily diary which describes some of the key events that happened to you that day (technically a nocturnal notebook!) and even sketch some of the more interesting characters with whom you interacted or start by remembering key events from your childhood and working upward from there.
You can write your memoirs with a strict FYEO policy in place or put a more accessible spin on things if you want someone in your family to read your journal one day too. If famous diarist Anne Lister is your inspiration, you might try coming up with your own code or inserting the occasional secret word/anagram/initials only you know the meaning of.
Create dream lists
When you have a crazy dream the night before, of course the first thing you must do when you wake up is grab your journal and write about it – that's a given. But what about dream listicles? They are just as much fun to do.
Some of the best dream listicle ideas for journals (you can do Top 5 or Top 10):
Dream holiday destinations with your own country or state
Dream international holiday destinations
Top 5 baby names for boys or girls
Capsular wardrobe essentials you can aspire to buying this season
Top 5 weekly, monthly, yearly goals (see bullet journaling) such as losing a certain amount of weight per; saving a certain amount of money per; stopping a certain number of bad habits per
Movies you want to see
And those are only a few of the ideas to help you create dream lists inside the empty pages of your notebook.
Keeping track of "I owe you's"
Everyone I know has suffered from a bad case of I-owe-you-itis at some point in their life, and they are never proud of it. Failed I-owe-you's are listed as one of the main reasons why couples or friends hit the pause and delete button on their relationships. If you think you could benefit from including an "IOU" section in your journal so you don't fall prey to delinquent personal debts, then get it done now!
Book borrowing – one of the best ways to build up resentment between you and an acquaintance is to borrow a book and never return it. Write down the person's name and contact details, what book you borrowed, and then give yourself a specific date when you will return the book – whether you've read it finished or not. Then bookmark the journal page with the date of return.
Clothes and accessories – from that rainy day when you ask someone if you can borrow their umbrella to the warm jacket you needed when the weather took a turn for the worse if someone is kind enough to lend you their clothing or accessories, get it back to them pronto. When you get home, write what you borrowed into your journal and then put a note into the side panel one week in the future so you can return the item when you get it back from the cleaners.
Dinners, coffees, and play dates – if someone has invited you round for a meal or meet up, do the right thing and reciprocate. Before you even leave your friend's house or the rendezvous, whip out your diary and make a date for when you can repay the favor. If it starts to become a regular thing, why not suggest turning it into a book club, official kids play date, or barbecue burn-off?
Money – write the amount into your journal, bookmark it in red, pay it back in a heartbeat, and offer to pay interest. And that's all there is to say about that.
Some things to think about before starting your diary
Throughout history, humans have been compelled to write or record the events happening to them or around them.
The fine art of journaling became popular during the 18th century, coinciding with the spread of education and cheaper writing products. So, you could say that the minute we got hold of an empty page and a quill, we began to keep a diary!
Diary writing reached its peak during the Victorian era, when people like Edith Holden did not so much as keep a diary, but created an official work of art. When her journal "Nature Notes" was published in the 1970s (as The Country Diary of an Edwardian Lady), it was both sensational and inspiring.
When I talk to people, that seems to be one of their favorite things they like about keeping a journal: it slows the pace down and gives them a chance to unplug from our high-tech, fast-paced world for a while.
During the diary writing pinnacle, the books were seen as a way to record a person's private thoughts and to illustrate the things they had seen that day. However, these journals are now seen as an important insight into the everyday lives of those cultures and the historical events which happened throughout their existence.
Journals as record keeping, business accounts, and private thoughts
Although the first daily record keeping was devoted to keeping tracks of tithes and harvests, the earliest example of a diary as we would recognize it today was kept by the second century Roman Emperor, Marcus Aurelius.
On the opposite side of the world, a Chinese scholar called Lio Ao kept a travel diary (another great way to use an empty journal!) during the 9th century. And in the 11th century, a middle eastern adventurer called Ahmed ibn Banna wrote about his travels around Northern Europe – which is the first instance of anyone arranging their journal entries by date.
The list of how famous people came up with ideas of how to use a blank notebook reads like a who's who of literary geniuses – or just plain geniuses.
Anne Frank
Samuel Pepys
Leonardo da Vinci
Charles Darwin
Marie Curie
Mark Twain
Other Journal use ideas worth mentioning
While we have covered a bunch of ideas, I think we could go some extra quick ones so that you will for sure find something that you can use your empty notebook on:
Use it to plan content: If you are running a blog or maybe have a YouTube channel, the best way to keep your ideas organized and plan your content is to write everything down in a notebook.
Movie reviews: Maybe you like sharing your thoughts on the latest films? Why not make a dedicated notebook for this purpose!
Keep passwords safe: In this online world, there is probably nothing safer than going analog to protect your online passwords. Just remember not to leave the notebook in an exposed place =] Obviously!
List of 100s: Creating a list of 100s or creating different positive habits you want to incorporate into your life by doing something for 100 days is a very popular way to use a journal. But if you plan to do a 100-day challenge, make sure you set a starting and ending date to keep you accountable.
Keep a gratitude journal: There is nothing better for the soul than to appreciate all the little ways we are blessed. A gratitude journal allows you to put into words all those things we are thankful for and to keep us in a positive state of mind.
Health log: Keep track of your water intake, exercise routines, or food intake with a journal, so you can see and evaluate your progress and what you could improve.
Habit tracker: Just as it's fun to keep a journal to introduce habits, it's also fun to keep a journal to keep track of the habits we want to maintain or improve.
Budget or debt tracker: Keeping track of our progress is not only so cool to see but also incredibly encouraging, I found that by keeping track of my budget and debt, it was so much more encouraging for me to make the right decisions, to not spend on silly things, and put all my money into getting out of debt.
Meal planning: Planning your shopping list, the recipes, and the amounts of things you will need for a week or month is so much easier when done in a notebook where you can erase and change things around.
Mind mapping: Mind mapping is kind of a visual brain dump, where things don't necessarily have to be in a consequential list, it's mostly graphic and everything revolves around one central concept or idea.
Alphabet bank: A notebook is such a great way to keep track of different styles of letters, or complete alphabets. This way you can have them handy, so you can reference them as you learn brush calligraphy or hand lettering.
Conclusion
The biggest takeaway from all the best ways to use a blank notebook has to be to do it by hand!
Writing, doodling, drawing, sketching – even taking a photo of something but then taking the time to transpose it onto paper – they are all far superior ways of documenting your life and the important things that happen to you compared to digital format.
Journals are lovely personal intimate accounts of our precious lives. When you look at it that way, you will understand why there are so many articles on "ways to use that blank notebook" out there.
Happy notebook-taking!