I love researching for inspiration on craft-rooms, I think you can all tell by the Part 1 and Part 2, but I just can't help it. there is so much amazing inspiration out there I have to show you all (just in case you haven't seen them) So if you had you can just skip this post, but let's be honest, I've seen this pictures tons of times and I still love to see them so I dont think any of you would mind, right?
And even tho not all of them are craft room pictures, they are all my favorite details and things that inspire my "on the making"  craft-sewing-office room =] So I thought i should share.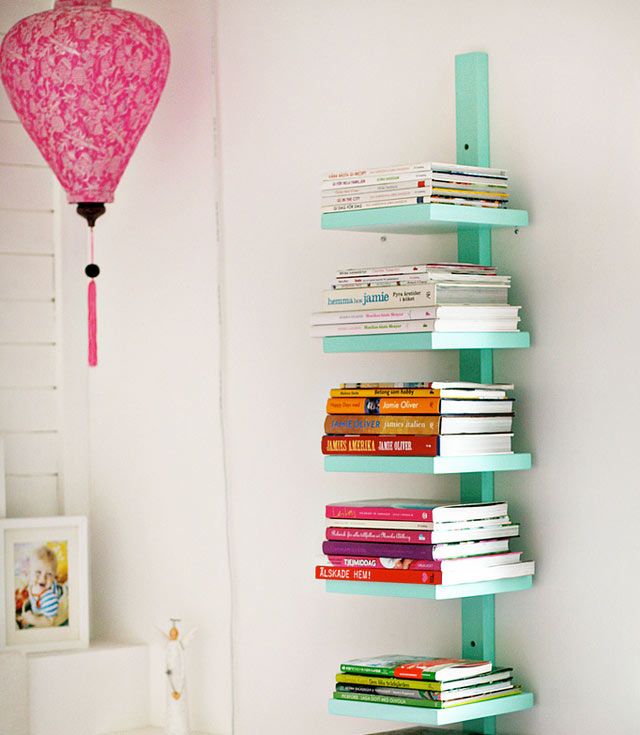 [ source ]
Simple bookshelf, but it doesn't have to be just for books. I can totally see this in my room holding some cute color fabrics. And I think the reason I love this image so much is the combination of hot pink and turquoise, I just love those colors together specially in a super light room.
On the left there is an example of a super easy DIY ladder bookshelf, I want to make one so bad, thank Anna White for project plans, so awesome. Another super cute idea is to use crates and pait them before setting them on the wall, doesn't it look gorgeous?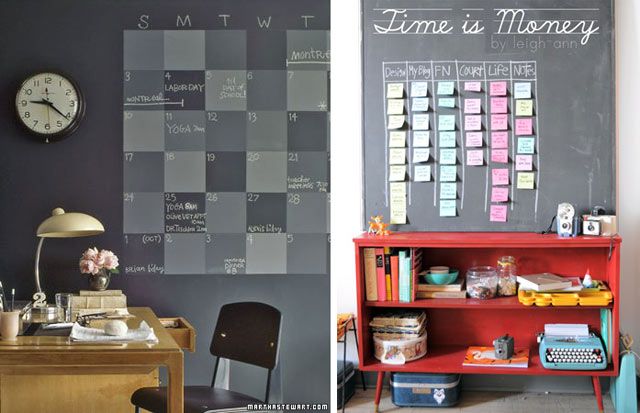 I love calendars, and these two options are on the top of my list, in the second part of the craft rooms inspiration I shared with you all I showed you some other calendars I really like, but I had to include this ones on this post.
[ source ]
Simple black and white, I dont think you can ever go wrong with keeping it simple. I love how light that room looks with the big windows =]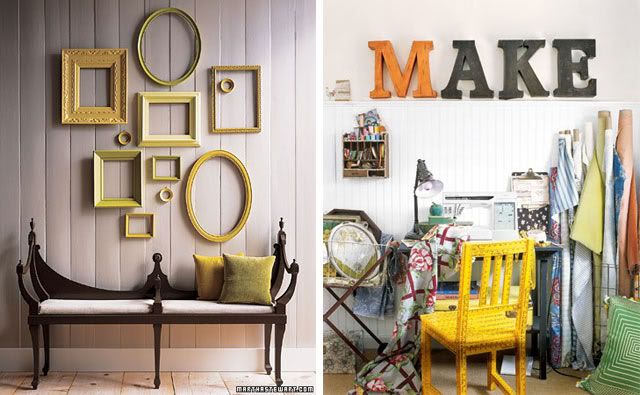 Wall art – I am one of the biggest fans of wall art, I love Martha Stewart's idea of the different frames, it's just lovely. And super oversize letters? count me IN! Actually that image was my inspiration for the create wall art tutorial I made, even tho I went smaller, I love having words around me =]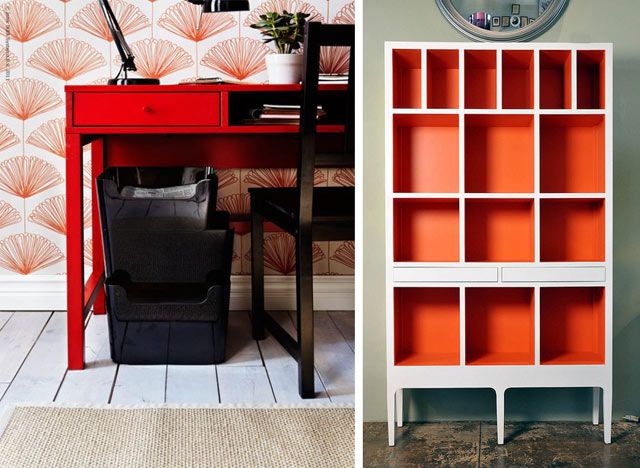 Color furniture, I love how sometimes painting furniture can give so much life to a room, but the above right image is an example that sometimes all you need is adding some details or color backs to bring life a energy to a white piece of furniture.
Color, color and please so more colors! Even tho usually when you design and plan for a space you set colors,  every time I look at images like these ones above,  I want to trow all possible colors in my craft room and enjoy the rainbow =] hehe.
Pink details, chevron pattern and amazing chairs -LOVE! I so wish I had one of those chairs, they are so pretty! but since I can't have them they are my inspiration for my next re furnish. I can't wait to show you all my chair plans.
I love painted desk and this two are perfect examples of lovely details there, the right one with chevron is just lovely and the letters on the left are such a nice and simple way to add character to a plain desk.
Thats it for this part of lovely spaces and hopefully this gorgeous images will inspire more people just like they inspire me =] Have a sunny and fun weekend! I will announce the winner of the "Never Forget your dreams" posters on Monday (thank my hosting problems for that) So you all still have the weekend to enter =] See you Monday!
https://s3-us-west-1.amazonaws.com/howjoyful/wp-content/uploads/2011/07/27075144/craftroom.jpg
100
100
Joy
https://www.howjoyful.com/wp-content/uploads/howjoyful-logo-1.png
Joy
2011-07-29 17:33:39
2017-09-27 11:08:04
Lovely Spaces - Craft room (Part 3)